ASUS RT-AC68U AC1900 Dual Band Gigabit WiFi Router, AiMesh for mesh wifi system, AiProtection network security powered by Trend Micro, Adaptive QoS and Parental Control
AC1900 Dual Band Gigabit WiFi Router with MU-MIMO, AiMesh for mesh wifi system, AiProtection network security powered by Trend Micro, Adaptive QoS and Parental Control
Great Wi-Fi - Enjoy the combined dual-band speeds of up to 1900Mbps, 3X faster than 802.11n routers
Ultrawide Coverage - High-performance antennas and ASUS AiRadar eliminate dead spots
Commercial-grade Security - AiProtection, powered by Trend Micro™, blocks and neutralizes internet security threats for all your connected smart devices
AiMesh Supported - Connect your RT-AC68U to other compatible ASUS routers to create a powerful and flexible whole-home Wi-Fi network
Flexible Connectivity Options- 5X Gigabit Ethernet ports, 1X ultrafast USB 3.1 port and 1X USB 2.0 port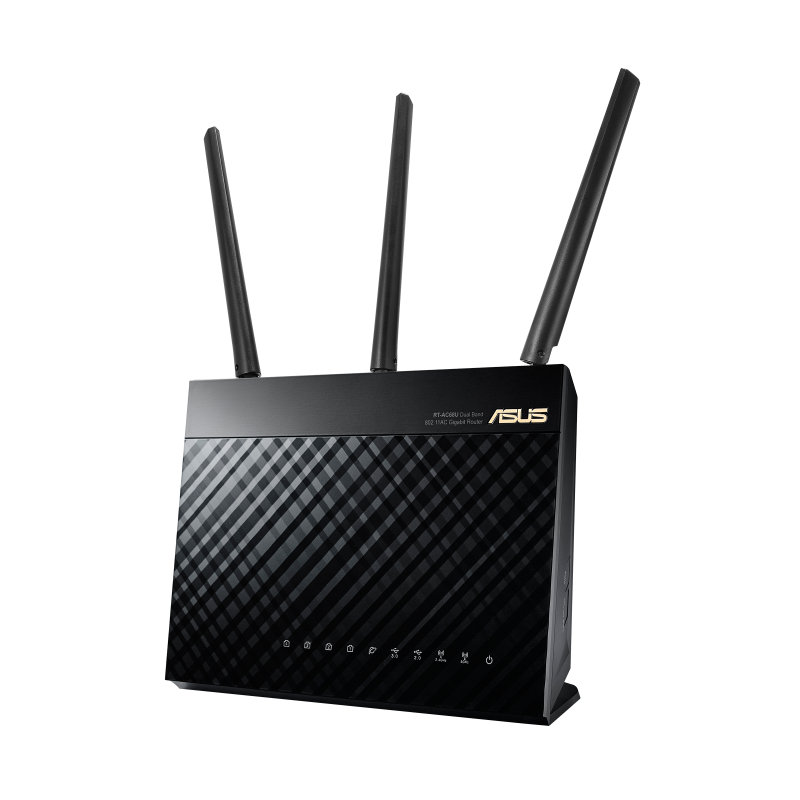 For Those Who Want to Run Ahead
RT-AC68U supports combined dual-band data rates of up to 1900Mbps. 1300 Mbps 802.11ac at 5 GHz gives Gigabit wireless data rates, while Broadcom® TurboQAM™ technology super-charges 2.4 GHz 802.11n performance from 450 Mbps to 600 Mbps with compatible devices.

Powered by a dual-core processor, the RT-AC68U eliminates the performance drops that plague other routers with busy networks. So even on the busiest home networks, HD video streaming is always smooth, the latency low for online gaming and VoIP calls, and file downloads are never interrupted.

The RT-AC68U also features dual USB ports for file, printers and 3G/4G modems sharing and a USB 3.0 port for up to ten times faster data transfers than USB 2.0.
ExclusiveASUS AiCloud transforms your home networking into your personal cloud for easy streaming and sharing to smartphones, PCs, and tablets. Router-to-Router sync also makes it simple to sync files on USB-connected storage with other compatible ASUS routers for hassle-free sharing of large files with family and friends.

The easy-to-use ASUSWRT graphical user interface unlocks the power of the RT-AC68U giving robust control to optimize your network for you. 30-second set-up and easy traffic management means even network newbies can enjoy its sophisticated features, while power users will love its IPv6 support, multiple wireless SSIDs and encrypted VPN access.

AiProtection Pro
Commercial-Grade Security for Family
All your family members, young or old, are exposed to the dangers of internet every single moment they're online. Disguised cyber threats can sneak in to steal your private data, or your kids may accidentally encounter inappropriate content during their ever-growing screen time. RT-AC68U includes Advanced Parental Controls to give you total peace of mind, with AiProtection Pro - commercial grade security for your home network and comprehensive, easy control of the online experience for each family member and each device, all via the mobile app. learn more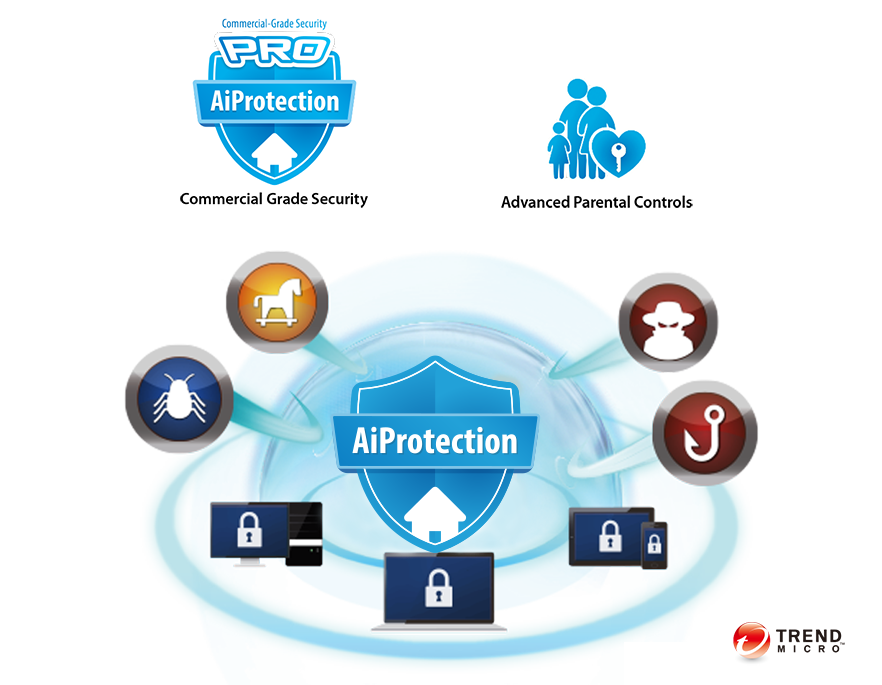 No Subscription Fee
Some routers only offer 3 years of protection, ASUS AiProtection has you covered for the life of your product

Block Access to Malicious Websites
AiProtection uses Trend Micro's official database to identify and block known malicious sites, preventing infection even before you click.
Protection Against Attacks
Intrusion Prevention System (IPS) blocks all common internet-based attacks.

Infection Detection and Blocking
Even if an already-infected device is connected to RT-AC68U, AiProtection prevents any personal data on the device from being compromised.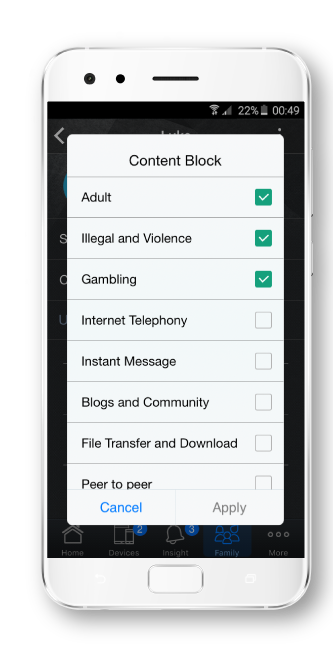 Parental Controls
Keep your kids safe when they explore the internet. The state-of-the-art parental controls in AiProtection integrate all the management functions you need in one place and the intuitive interface makes it super easy to view and apply security settings to all the devices owned by individual family members.*
| | |
| --- | --- |
| | View each family member's internet activity on a clear graphical dashboard showing the peak time and what kind of content they are viewing. You can group devices that belong to your children to view aggregated data and apply scheduled block times and content filters with just a few taps. |
| | Check the box when editing a device and profile, and the preset automatically applies filters for inappropriate content to all their devices. |
| | Reserve valuable family time or help your children develop responsible behavior by selecting scheduled time periods to block internet access on specific devices. |
| | Block specific categories of mobile apps and websites, and apply these settings to all devices belonging to individual family members. The advanced filtering integrates Trend Micro's Deep Packet Inspection (DPI) engine to filter not only by website URL, but also by the internet packets themselves, which means it filters content viewed not only in a web browser, but also within mobile apps on your devices.* |

NVIDIA GameStream Ready
Your router is about to have a lot more fun. That's because it can now stream all your favorite PC games to the NVIDIA® SHIELD™ portable to play anywhere in the house using fast, ultra-reliable NVIDIA GameStream™ technology. ASUS routers deliver lag-free, high-performance game streaming from GeForce® GTX™=powered PCs or NVIDIA GRID™ cloud gaming systems. For more information, visit www.nvidia.com/gamestream.



Super-fast AC Wi-Fi with TurboQAM™ Wi-Fi acceleration
Powered by 5th generation Wi-Fi (5G Wi-Fi), the new 802.11ac chipset gives the RT-AC68U superfast Gigabit wireless speeds. What's more, RT-AC68U uses TurboQAM™ technology to upgrade 2.4G Wi-Fi even further to give you unprecedented speeds. At 2.4 GHz, it's 33% faster than generic wireless-N900 routers, reaching 600 Mbps, while on the 5 GHz band it blazes to 1300 Mbps - or triple 802.11n rates. That's 1900 Mbps of concurrent wireless power!
*To get the best performance, pair RT-AC68U with ASUS PCE-AC68 client card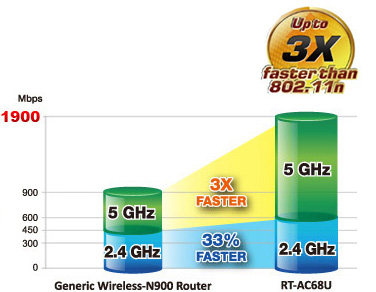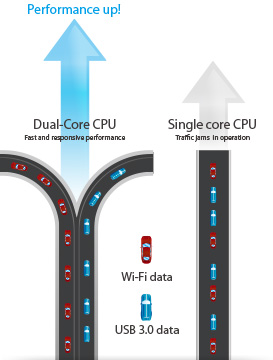 Do more at once with dual-core processors inside
The ASUS RT-AC68U features a dual-core processor that eliminates the performance drops that plague other routers. So even on the busiest home networks, HD video streaming is always smooth, the latency low for online gaming and VoIP calls, and file downloads are never interrupted.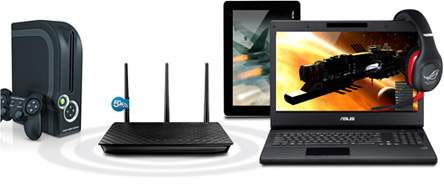 Enhanced signal range and stability
ASUS AiRadar intelligently strengthens wireless connectivity using beamforming technology, high power amplification, and exclusive ASUS RF fine-tuning. This ensures extended coverage, dynamic data speed increases, and enhanced stability.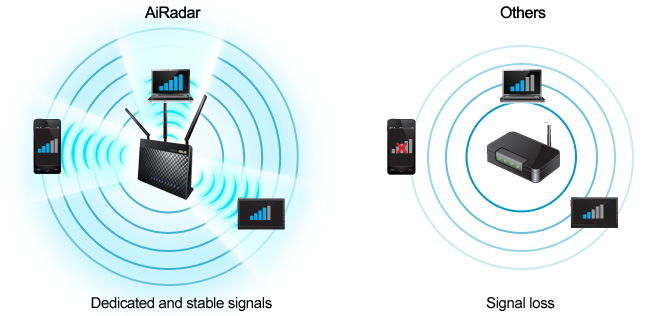 Powerful Whole-home Wi-Fi System.
The Way You Want.
In most cases, your RT-AC68U can deliver smooth, reliable Wi-Fi to every part of your home. But Wi-Fi coverage can be affected by many factors — room layout, construction materials, and even furnishings. ASUS AiMesh is an innovative new router feature that fixes these problems: it creates a whole-home Wi-Fi network using multiple ASUS routers. AiMesh is powerful, flexible and you can use a mix of ASUS router models — protecting your investment! AiMesh gives you time-saving central control, and seamless roaming capability. AiMesh is Wi-Fi you can rely on — for all your devices, all the time! Learn More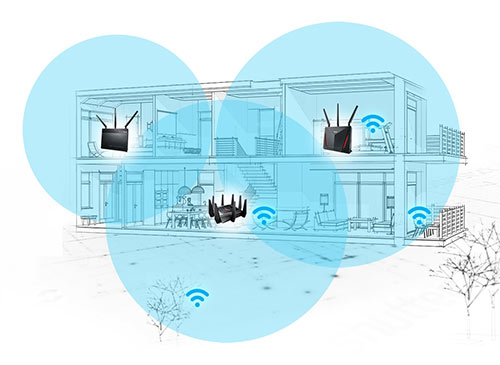 Turn your ASUS routers into whole-home Wi-Fi system with a simple firmware update
Mix and match preferred models from selected ASUS routers
Create a Wi-Fi network with either a single SSID or multiple SSIDs
All router features works across the entire Wi-Fi system


Dual-band connectivity for compatibility and performance
Delivering 2.4 GHz and 5 GHz concurrent bands at up to 600 Mbps and 1300 Mbps, respectively, the RT-AC68U has a total speed of up to 1900 Mbps, and maintains complete stability. You can perform basic tasks like Web browsing and file downloading on the 2.4 GHz band, while simultaneously allowing multiple devices to stream in Full HD or support online gaming and other bandwidth-demanding applications smoothly on the clearer 5 GHz band.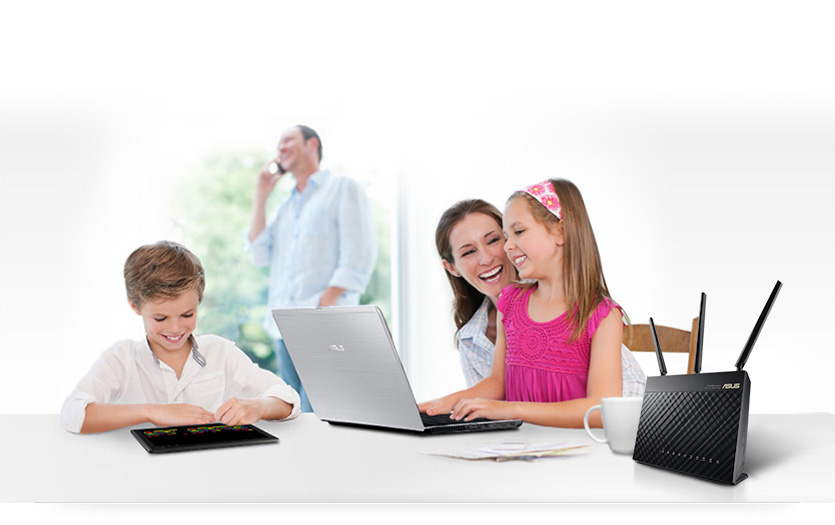 Ultimate USB speed and versatility
Highest Speed USB 3.0 features data transfers up ten times faster than USB 2.0. Two USB ports make the RT-AC68U perfect for file, multimedia, and 3G/4G sharing, while ASUS AiDisk offers remote access and quick content streaming. Where other routers have their USB ports sandwiched next to one another, both RT-AC68U USB ports are evenly spaced for easy access to either at all times.


Robust control and optimization with ASUSWRT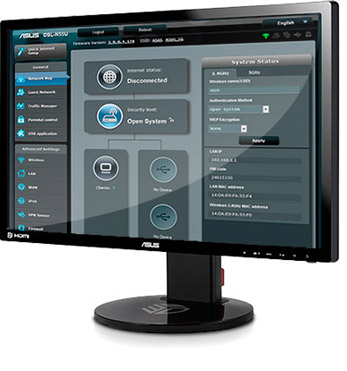 With the ASUSWRT dashboard UI, setup, monitor, and control network applications all in one intuitive area. On top of 30-second setup,multi-device detection, and flexible settings that make the most of your network performance, it's been upgraded with quick scanning of USB storage connected to routers to verify data integrity and drive health. Dual WAN enables having two connections/ISPs on one router, with load balance and failover mode for added stability and redundancy to ensure uninterrupted internet access.
Do you game a lot, or spend most of your time streaming videos? Whatever your planned use is, the RT-AC68U has Adaptive Quality of Service (QoS) that optimizes inbound and outbound bandwidth on both wired and wireless connections. Applications and tasks can be prioritized easily using drag-and-drop presets for gaming, media streaming, VoIP, web browsing and file transfers. It supports major consoles including PlayStation
®
3, PlayStation
®
4, PS4™ Pro, PlayStation
®
Vita, Wii U, 3DS and Xbox One.
Try it.


Easy 3-step setup
Use your smartphone, tablet, or PC to effortlessly set up your ASUS router in less than 30 seconds* and in only 3 easy steps1. Simply connect the cables to the router, open a Web browser, and follow the setup wizard to get you to the internet in no time.


*ASUS-tested and verified setup time. Actual duration may vary by ISP, specific connection type, location, and other factors.


ASUS Router App
Control your network anywhere
In your increasingly mobile-enabled life, having control over your network via an app is more important than ever. The new ASUS Router App is built from the ground-up to be both intuitive and robust, allowing you to setup your router, manage network traffic, diagnose connection issues and even update firmware, all without needing to boot up a PC.
» Learn more
Click below to download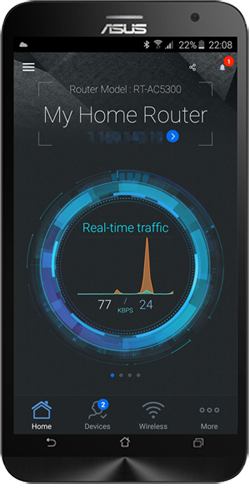 ASUS AiCloud – Your world on demand
ASUS AiCloud keeps you connected to your data wherever and whenever you have an internet connection. It links your home network and online Web storage service* and lets you access it through the AiCloud mobile app on your iOS or Android smartphone or through a personalized URL in a Web browser. Even better, the new Router-to-Router Sync function allows you to synchronize your stuff with storage devices connected to other compatible ASUS routers— it's as simple as choosing a sync folder. Sharing with friends and family is now easier than ever! Learn more.
* Works with select Web storage services only.


Powerful online multitasking with 300,000 data sessions
Support for a massive data pipeline of up to 300,000 data sessions means the RT-AC68U has around 20 times the networking capacity of conventional routers for exceptionally smooth performance.



Download and stream anywhere
Download Master and enhanced media server let you download and play multimedia files stored on router-attached USB storage on a wide range of compatible devices such as PC, pad, PS3, Xbox, and smart TV. Download Master can also download files while your PC is turned off, and allows you to manage and monitor download status remotely.






Dedicated Wi-Fi for your visitors
Share your internet connection with your guests with no need to share your personal password or network resources. ASUS Guest Network supports up to three separate guest networks, each with its own usage limits and password. Guests cannot access your primary network or any other connected devices.

Boost your business with Facebook Wi-Fi
Give your customers the convenience of free Facebook Wi-Fi! To connect to your Facebook Wi-Fi hotspot, all they have to do is check in to your location using Facebook — no codes are needed. You can boost the awareness of your business, promote special offers, and gain more insights about your customers.1 Check here for more detail about Facebook Wi-Fi.
Due to Facebook policy, the last firmware version that supports Facebook Wi-Fi is version 3.0.0.4.380.4164. Please download the firmware here. However, it is recommended to always keep your router up to date to benefit from the latest security enhancements.

Keep Up to Date!
Remember to always keep your device's firmware up to date so you can benefit from the very latest service and security enhancements — and get exciting new features! Learn more about updating new firmware.
Discover more wireless AC solutions
Disclaimer:
1. This service is provided by Facebook and is not available in regions without Facebook services. Please check the website for the latest status of the service. Facebook may cease providing this service according to their policy. When the service terminates, please stop providing and advertising this service and remove all marketing materials promoting this service.
* ASUS received the highest numerical score among wireless routers in the J.D. Power 2015 Wireless Router Satisfaction Report, based on 2,716 responses from 8 companies measuring satisfaction with wireless routers surveyed November-December 2015. Your experiences may vary. Visit jdpower.com
Products certified by the Federal Communications Commission and Industry Canada will be distributed in the United States and Canada. Please visit the ASUS USA and ASUS Canada websites for information about locally available products.
All specifications are subject to change without notice. Please check with your supplier for exact offers. Products may not be available in all markets.
Specifications and features vary by model, and all images are illustrative. Please refer specification pages for full details.
PCB color and bundled software versions are subject to change without notice.
Brand and product names mentioned are trademarks of their respective companies.
The terms HDMI and HDMI High-Definition Multimedia Interface, and the HDMI Logo are trademarks or registered trademarks of HDMI Licensing Administrator, Inc. in the United States and other countries.
The actual transfer speed of USB 3.0, 3.1, 3.2, and/or Type-C will vary depending on many factors including the processing speed of the host device, file attributes and other factors related to system configuration and your operating environment.
Actual data throughput and WiFi coverage will vary from network conditions and environmental factors, including the volume of network traffic, building material and construction, and network overhead, result in lower actual data throughput and wireless coverage.
Quoted network speeds and bandwidth based on current IEEE 802.11ac specifications. Actual performance may be affected by network and service provider factors, interface type, and other conditions. Connected devices must be 802.11ac-compatible for best results.
Memory
Flash Memory
128 MB
RAM
256 MB RAM
Networking
Mesh Technology
AiMesh
2.4 Ghz Data Rate
600 Mbps
5 Ghz Data Rate
1300Mbps
Network Standard
IEEE 802.11aIEEE 802.11bIEEE 802.11gIEEE 802.11nIEEE 802.11acIPv4IPv6
Coverage
Large homes
Antenna
3 x External detachable antennas
MU-MIMO
3 x 3
Transmit/Receive
MIMO technology2.4 GHz 3 x 35 GHz 3 x 3
AiProtection
AiProtection Pro
WAN Port
1 x Gigabit LAN
Interface
USB 2.0 Port
1 x USB 2.0
USB 3.0 Port
1 x USB 3.0
Features
Product Segment
AC1900
General
Button
Power ButtonReset ButtonWPS ButtonWireless on/off Button
LAN Port
4 x Gigabit LAN
Manufacturer Warranty
3 Years
Operation mode
Wireless router modeRange extender modeAccess point modeMedia bridge mode
Package Content
1 x RT-AC68U Wireless-AC1900 Dual Band Gigabit Router1 x RJ-45 cable1 x Power adapter1 x QSG1 x Support CD(user manual and ultility)
Offer
Discount
v-day
Google Ads
Active