ASUS ROG Fusion II 500 RGB gaming headset with high resolution ESS 9280 Quad DAC™, deep bass and immersive virtual 7.1 surround sound, AI Beamforming Microphones with AI Noise Cancelation, Game Chat volume control, compatible with PCs, PlayStation® 5, Nin
Immersive Sound. Crystal-Clear Chat.
The ROG Fusion II 500 gaming headset retains the iconic ear cup design of the ROG Strix Fusion series and pumps it up with virtual 7.1 surround sound, a high-res ESS 9280 Quad DAC™ and 50 mm ASUS Essence drivers to deliver immersive true-to-life audio with thumping bass. AI Beamforming Microphones with AI Noise Cancelation and Game Chat volume control provide impeccable in-game communication during the heat of battle.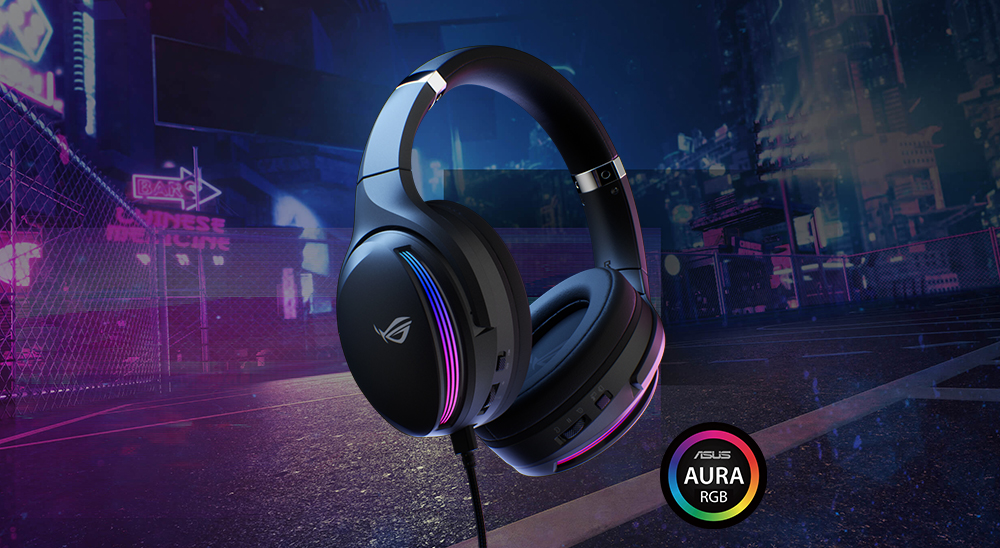 High-Resolution ESS 9280 Quad DAC
The Fusion II 500 kicks things up a notch with the ESS 9280 Quad DAC, which provides lossless audio processing. Each DAC devotes its processing power to a subset of the audible frequency range — across lows, mids, highs to ultra-highs — resulting in crisp and clear sound.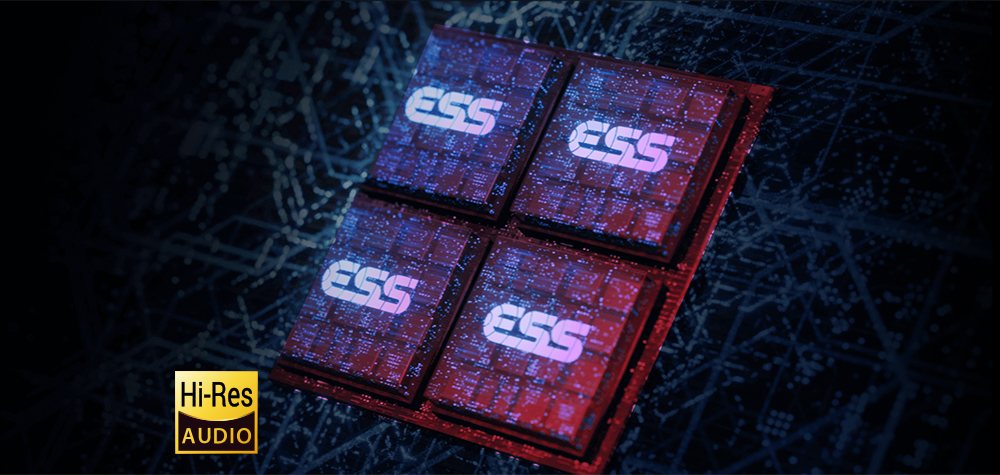 High SNR for Positional Audio
The ROG Fusion II 500 is designed for RPG and FPS games. It achieves an unprecedented 130 dB SNR ― a spec unattainable by single DAC headsets. Plus, its exclusive 50 mm ASUS Essence drivers and airtight chambers provide deep and powerful bass so you can precisely pinpoint the origin of gunfire or explosions on the battlefield and experience ultimate gaming immersion.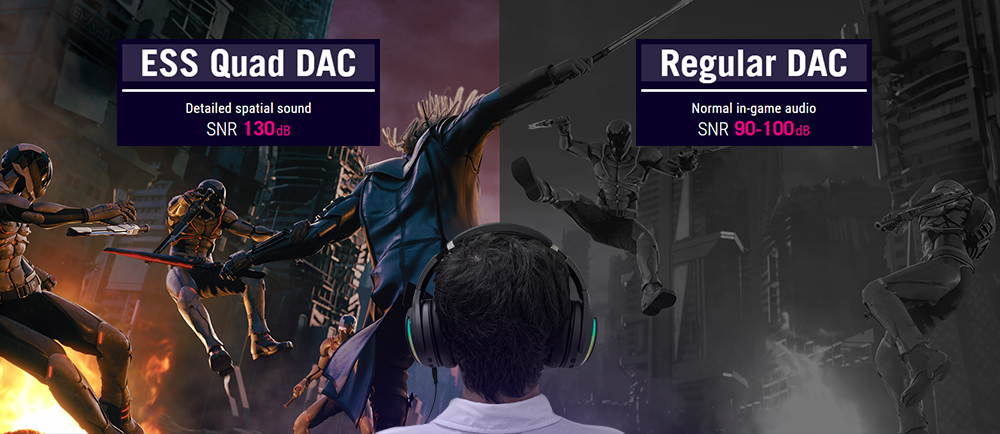 Virtual 7.1 Surround Sound
Advanced virtual 7.1 surround sound optimizes audio in any game for realistic positional audio. The Fusion II 500 also includes exclusive ROG Hyper-Grounding technology for pure, realistic sound. Get ready to hear everything as if you were right in the middle of it ― all with just a push of a button. No dongle or software required!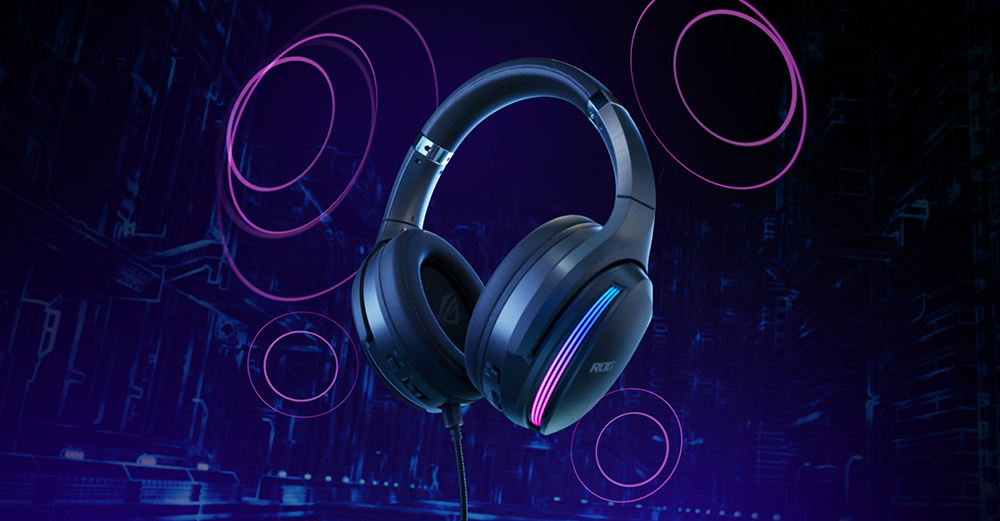 AI Beamforming Microphones with AI Noise Cancelation
The Fusion II 500 doesn't rely on a boom mic. Instead, it uses concealed AI Beamforming Microphones to provide high-quality voice communication in comfort and style. The Discord- and TeamSpeak-certified microphones create an acoustic zone that targets your mouth while filtering out distracting background noise from other directions to ensure clear voice pick-up.
*Supports USB-C® and USB-A connections. 3.5mm connection provides standard microphone features only.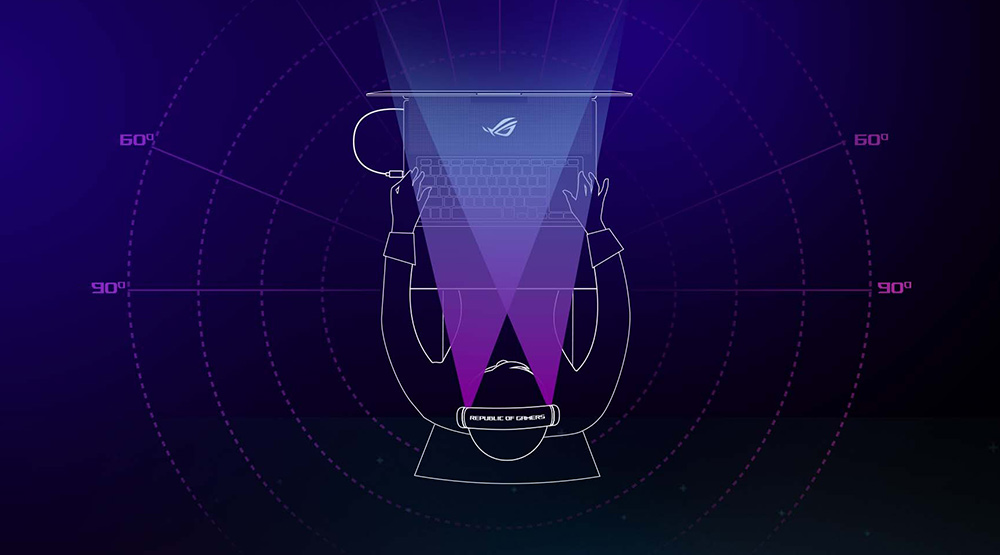 This integrated AI Noise Cancelation feature reduces over 500 million types of background noises such as chatter, keyboard clatter and mouse clicks by up to 95%.

Game Chat Volume Control
Game Chat volume control* lets you prioritize and adjust the volume of in-game audio and voice chats from teammates.
*Only available in PC mode.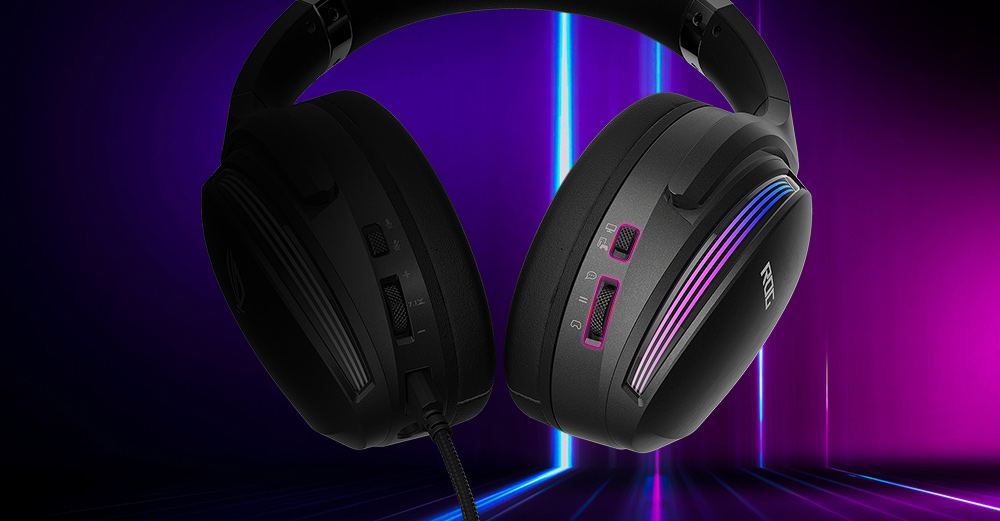 Instant Control at Your Fingertips
Virtual 7.1 surround on/off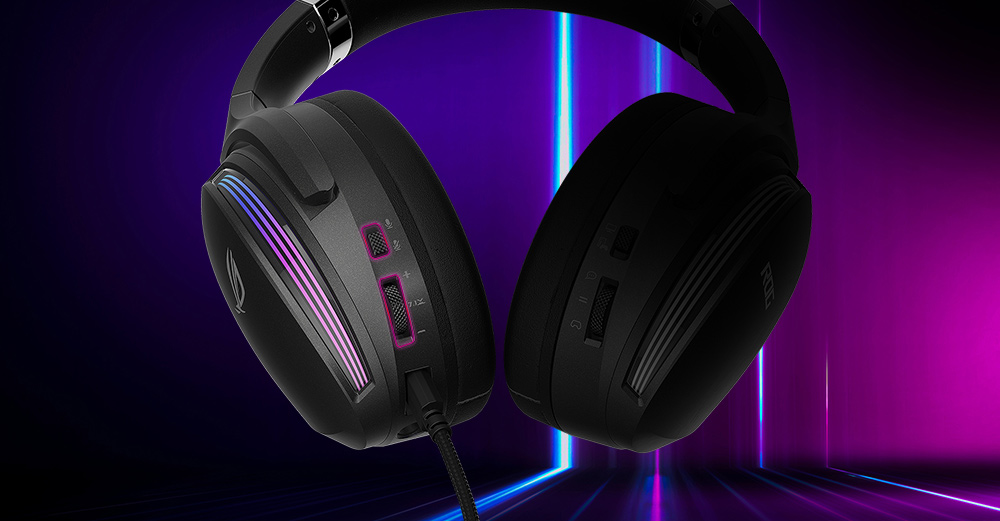 ASUS Aura RGB Lighting
Show your style with customizable Aura RGB lighting. Choose from over 16.8 million color combinations and six preset lighting effects via Armoury Crate.
Static

Breathing

Strobing

Music

Color Cycle

Rainbow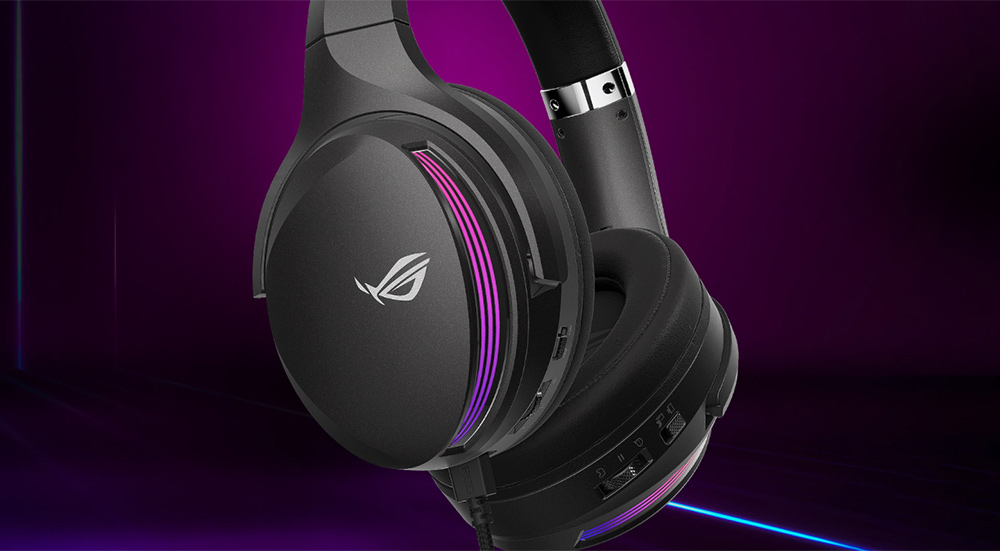 Armoury Crate
Armoury Crate software offers extensive controls and an intuitive UI, so you can easily adjust the audio profile and lighting effects.

Multi-Platform Compatibility
A 3.5 mm jack, USB-C® and USB-A* connectivity ensure full compatibility with PCs, Macs, PlayStation® 4 and 5, Nintendo Switch™, Xbox One, Xbox series X|S and mobile devices.
*Use of bundled USB-C® to USB-A adapter dongle required.
desktop

laptop

nintendo
switch

phone

console

Crafted for Comfort
Designed to ensure comfortable marathon gaming, the ROG Fusion II 500 weighs only 310 grams and features ergonomic ear cups that closely match the natural angle of your ears for a perfect fit. It also includes two types of ear cushions for a different feel.
ROG Protein Leather Ear Cushions

Thin and soft 100% protein leather ear cups provide excellent noise isolation and unbeatable comfort.

ROG Hybrid Ear Cushions

Thick and breathable fabric mesh ear cups with a contoured fit ensure comfortable marathon gaming sessions.