Overview

Tech Specs

Review

Support
 
Ambidextrous optical gaming mouse with four-stage DPI switch and convenient LED indicator
Agile DPI control - Four customizable DPI levels with an LED color indicator
Stylish ambidextrous design - Designed for both right- and left-handed gamers
Improved rubber side grips - Reduces sweating and slipping
 
 
 
 
 
"The sensor is excellent, it's comfortable to use and is a good all-rounder if you don't exist solely to game."
Budget gamers seeking an ambidextrous mouse that looks great, performs well and is comfortable to hold during extended gaming sessions should take a look at the ASUS Cerberus mouse.
"The Asus Cerberus range offers up three competitively priced peripherals, all with a great range of features and a matching black and red theme. While any of these products are great on their own, they make a great set and offer fantastic value for money for those looking for a complete desktop gaming setup."
+ lightweight + precise sensor + long and flexible cable + anti-slippery side elements + no Angle-Snapping + low LOD + customizable DPI (DPI-Taste) + liegt gut in der Hand + easy to reach thumb-key + Plug&Play + relatively cheap
Summing everything up, we can say that the ASUS Cerberus mouse is good for games that don't call for high reaction speed. It is a well-made affordable product that has nice looks and is easy to use
ASUS is well known in the market with many computer accessories, which are difficult to find ... a mouse, keyboard, headphones and giant gaming. Which is obviously not Fixtures See, that they can not make good equipment for players.
Finally, in the back, we find an image of the mouse to indicate the buttons and below the specifications of the mouse.
Mouse fits perfectly on TriNhil's hand which allows for accurate shots.
We'll looking at the ASUS Cerberus Gaming Keyboard, Mouse, and Headset: This line-up will get a N:TGR Seal of Approval!
With the Cerberus Gaming Mouse and Keyboard combo, ASUS has finally provided budget gamers an affordable way to get their hands on a pair of quality peripherals specifically designed with their needs in mind.
It's a gaming mouse and affordable but it doesn't suck. The quality of the mouse is pretty good despite using a plastic all over its body along with the rubber on the sides.
To wrap it up, the Cerberus Mouse delivers solid price-to-performance. This is indeed for budget oriented Gamers who want gaming grade features at a very minimal cost.
For NOOBS like me and you, here's ALL YOU NEED TO KNOW about the ASUS CERBERUS Gaming Keyboard and Mouse. We Show you their functions and special features. Heck, we'll even POUR WATER on the Keybaord to test if it's SPILL PROOF.
I'm sure I don't need to tell you guys just how much value is packed in the Cerberus Mouse at that price, it has one of the better sensors I've tested and is extremely comfortable to use. If you can look past the iffy side buttons the Cerberus Mouse has incredible performance at a very reasonable price.
Light weight, Easy to control with fast movement, Button can respond veryr well..
Value gaming mouse that can adjust DPI and LED light while change the DPI.
CERBERUS is a good selection of well-measured products with which there is no risk of the unknown and of questionable quality.
The Cerberus gaming mouse is a good option for full HD gaming on a budget. Featuring a 4 stage DPI switch with LED colour indicator, it is easy to keep track of your sensitivity.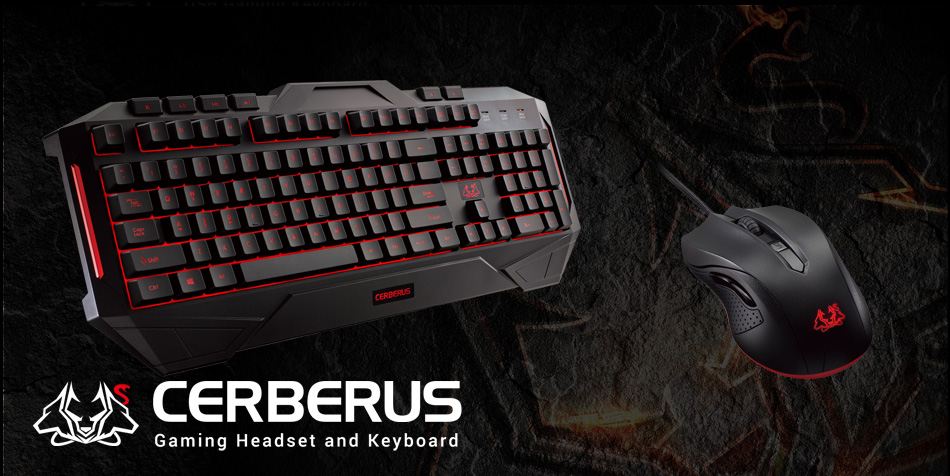 USB Backlit Keyboard
Full SECC metal plate - Rugged durability
Splash-proof design with drain hole - Prevents accidentally spilled liquids
12 macro keys - Tactical flexibility
Fully rubberized feet - Enhanced friction for strong movements
Optical Gaming Mouse
Agile DPI control - 4 customizable DPI levels with LED color indicator
Stylish ambidextrous design - Designed for both right and left hand
Improved rubber side grips - Reduce sweating and slipping
Agile DPI control with LED color indicator
A DPI clutch enables instant switching among four customizable sensitivity levels, giving you the right amount of speed for standard gaming sequences and ultimate precision when you need it, such as when sniping. A convenient LED color indicator lets you know the current sensitivity level at a glance.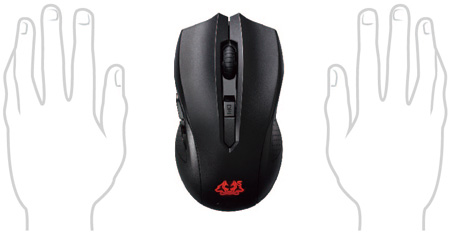 Stylish ambidextrous design
Designed to perfectly fit both right- and left-handed gamers and accommodate any grip type, Cerberus Gaming Mouse provides comfortable gaming experiences with total control.
Improved rubber side grips
Cerberus Gaming Mouse features improved rubber side grips that stay cool and reduce slipping from sweat to keep you holding on during intense gaming action.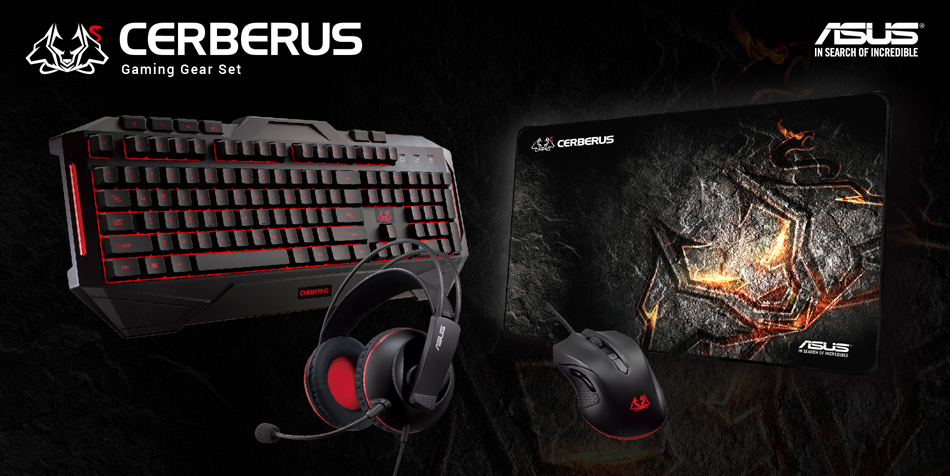 Products certified by the Federal Communications Commission and Industry Canada will be distributed in the United States and Canada. Please visit the ASUS USA and ASUS Canada websites for information about locally available products.
All specifications are subject to change without notice. Please check with your supplier for exact offers. Products may not be available in all markets.
Specifications and features vary by model, and all images are illustrative. Please refer to specification pages for full details.
PCB color and bundled software versions are subject to change without notice.
Brand and product names mentioned are trademarks of their respective companies.
The terms HDMI and HDMI High-Definition Multimedia Interface, and the HDMI Logo are trademarks or registered trademarks of HDMI Licensing Administrator, Inc. in the United States and other countries.
General
USB 2.0 Ports
1 x USB 2.0
Manufacturer Warranty
1 Years