Unerring Accuracy
ROG Keris Wireless AimPoint
The lightweight ROG Keris Wireless AimPoint gaming mouse delivers unerring accuracy like never before. With the exclusive ROG AimPoint optical sensor for sensitivity levels of up to 36,000 dpi, lighter form factor and longer battery life to boot, the ROG Keris Wireless AimPoint is the ideal sidearm to take into battle.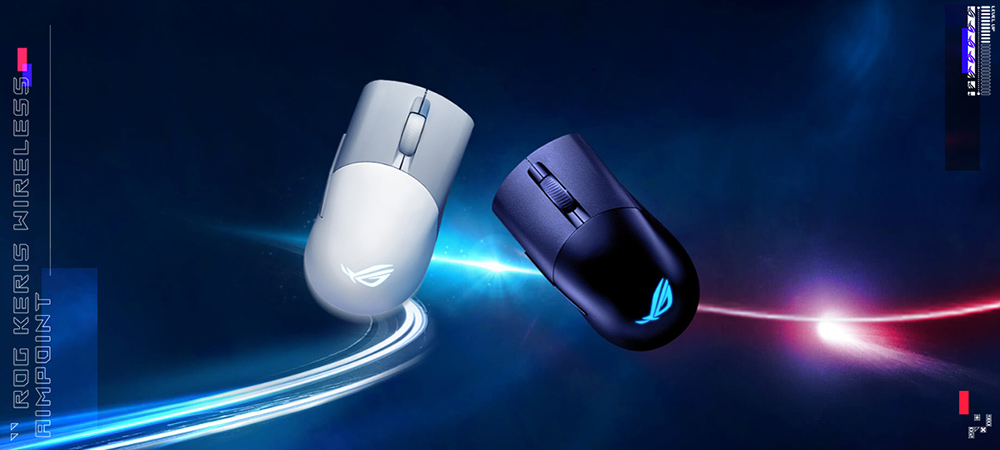 PERFECT PRECISION
Track every movement with unrivalled precision with the ROG AimPoint optical sensor. Featuring sensitivity levels ranging from 100 to 36,000 dpi with industry-leading <1% cpi deviation, the sensor registers movement at speeds of up to 650 inches per second (ips) at up to 50 g acceleration to ensure that your strikes are swift and effective.
*8000 Hz polling rate only available in wired mode.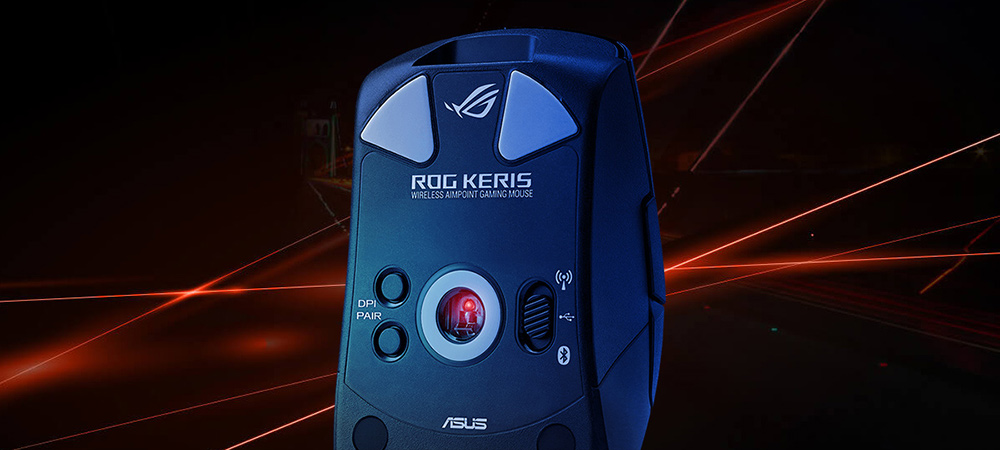 TRI-MODE CONNECTIVITY
Connect the Keris Wireless AimPoint any way you want: go with the ultrafast wireless 2.4 GHz RF mode, pair up to three devices with Bluetooth® fast pairing technology, or fast-charge while dominating a game with the wired USB mode.
Bluetooth

Wired USB

RF 2.4 GHz
ROG SpeedNova Wireless Technology
ULTRA-LOW LATENCY

ROG SpeedNova wireless technology optimizes wireless data transfer to deliver industry-leading low-latency performance.

RELIABLE DATA TRANSFER

Even in noisy environments congested with RF signal interference from surrounding wireless devices, ROG SpeedNova ensures polling rate stays at peak performance by cutting through signal jams with powerful connections and scanning for available frequencies with minimal interference.

OPTIMIZED POWER EFFICIENCY

Meticulously engineered to minimize power consumption up to 50% less than other wireless mice using the same battery.
MADE FOR GAMING MARATHONS
The lightweight design ensures swift mouse movement even in the most hectic battles, and the optimized battery life keeps you running and gunning for days on end.
LIGHTWEIGHT DESIGN

75 GRAMS

The updated internal structure keeps overall weight down to just 75 grams, making long hours of swift swipes and movements an absolute breeze.

ENERGY-EFFICIENT PERFORMANCE

119 HRS

Play wirelessly for up to 119 hours in low-latency 2.4 GHz RF mode.
PIVOTED BUTTON MECHANISM

A unique design with zero gap between the mouse button and switch to ensure instantaneous actuation.

SUPERB CLICK FEEL

ROG Micro Switches features a 70-million-click lifespan and a gold-plated electro-junction to improve durability. Each individual switch has gone through strict ROG manufacturing standards to keep force deviation within +/- 5 gram-force for a consistent click feel.

PUSH-FIT SWITCH SOCKET II

The ROG-exclusive push-fit switch socket design makes it easy to swap compatible 3-pin mechanical switches and 5-pin optical micro switches — simply drop the switches in to tailor operating force and feedback to preference, or replace worn or broken switches.
A Stylish Firm Grip
The bundled ROG-patterned mouse grip tape is already pre-cut. Simply stick it on the Keris Wireless AimPoint to get a better handle on things, and add that little bit of style.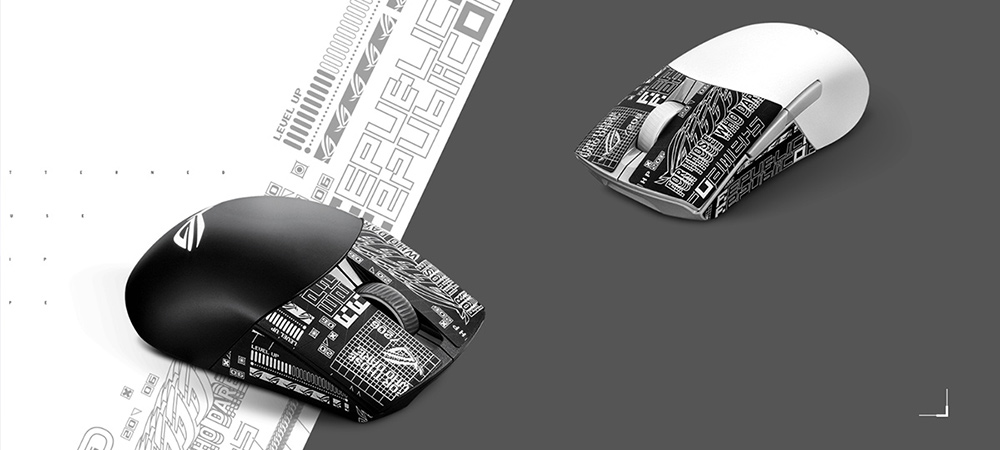 LEFT AND RIGHT PBT BUTTONS

The buttons have a durable nonslip surface that resists wear or shine, ensuring a consistent feel.

SMOOTH AND FAST MOVEMENTS

Equipped with the extremely flexible and lightweight ROG Paracord and round-edged 100% PTFE mouse feet to minimize snags, maximize movement, and provide an ultra-smooth glide.

ON-THE-FLY DPI

The DPI On-The-Scroll feature enables on-the-fly mouse sensitivity adjustments. Alternatively, you can click the button to cycle through up to four different levels of DPI levels.
AURA LIGHTING
Take style to the next level through an endless spectrum of colors or preset effects with Aura Sync RGB lighting.
STATIC

BREATHING

COLOR CYCLE

REACTIVE

PARTITION

BATTERY MODE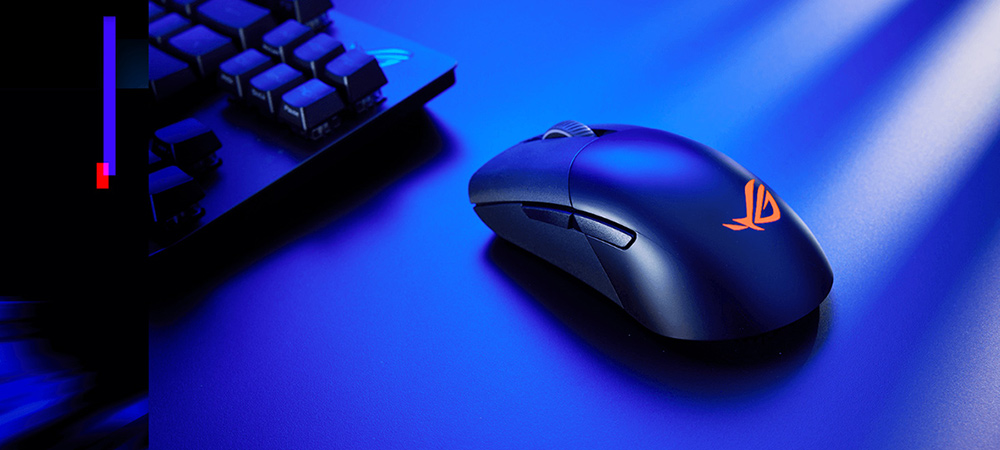 ARMOURY CRATE
Armoury Crate's intuitive UI lets you easily tune the ROG Keris Wireless AimPoint to suit your gameplay style — adjust performance and surface calibration settings, program and map buttons, customize lighting effects, and more. You can even track hardware stats during gameplay for data analysis.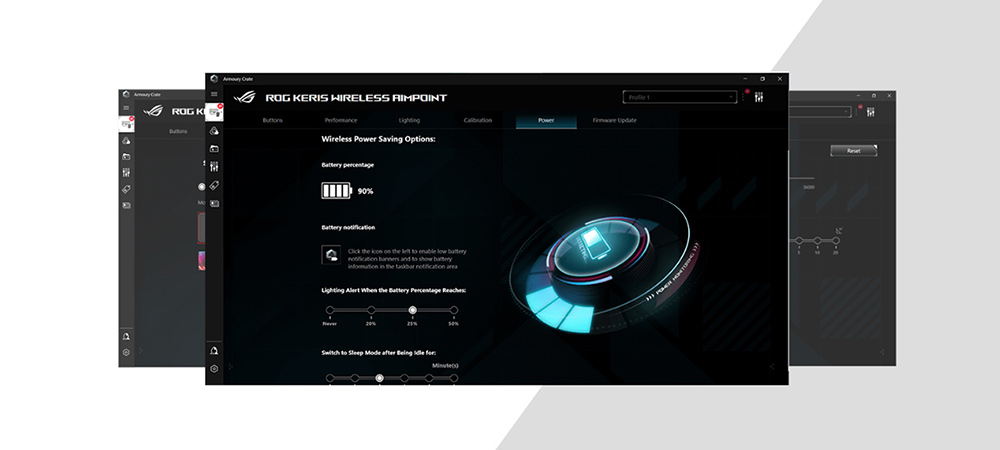 Features
Product Segment
ROG