ROG STRIX Z790-A GAMING WIFI II
The ROG Strix Z790-A Gaming WIFI II comes with a robust VRM topped with a stout silver heatsink that comfortably articulates power for the latest Intel® 14th Gen Core processors, while PCIe 5.0, WiFi 7, and high-speed USB flesh out the board's fluency across a variety of disciplines.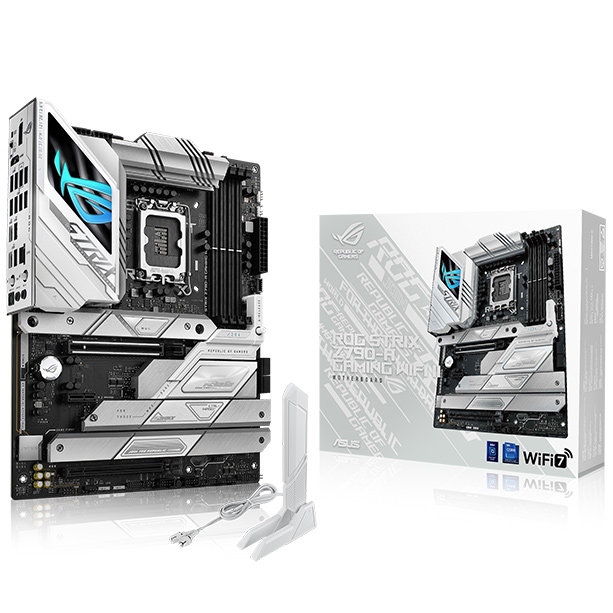 Intel® LGA 1700 Socket: Ready for Intel® Socket LGA1700 for Intel® Core™ 14th & 13th Gen Processors, Intel® Core™ 12th Gen, Pentium® Gold and Celeron® Processors
Robust Power Solution: 16 + 1 power stages rated for 70A, dual ProCool II power connectors, high-quality alloy chokes, and durable capacitors are all leveraged to support the latest multi-core processors
Optimized VRM Thermals: Massive heatsinks bridged to the VRM with high-conductivity thermal pads, and with an integrated I/O cover
Ample M.2 Support: Five PCIe® 4.0 M.2 slots all with heatsinks, and the topmost one also sports a backplate for additional cooling
Abundant Connectivity: USB 20Gbps Type-C® rear I/O port and additional front-panel connector with PD 3.0 up to 30W, seven USB 3.2 10Gbps and 5Gbps ports, PCIe 5.0 x16 SafeSlot, HDMI® 2.1, and DisplayPort™ 1.4
High-Performance Networking: On-board WiFi 7 and Intel 2.5G Ethernet with ASUS LANGuard
Intelligent Control: ASUS-exclusive AI Overclocking, AI Cooling II, AI Networking, and Two-Way AI Noise Cancelation to simplify setup and improve performance
Immersive Gaming Audio: ALC4080 with Savitech SV3H712 amplifier, along with DTS® Sound Unbound and Sonic Studio
Unmatched Personalization: ASUS-exclusive Aura Sync RGB lighting, including one RGB header and three addressable Gen 2 headers
DIY-Friendly Design: PCIe Slot Q-Release, M.2 Q-Latch, pre-mounted I/O shield, Q-LED with DRAM Detection, Q-Antenna, BIOS FlashBack™ button, BIOS FlashBack LED, and Clear CMOS button
Renowned Software: Bundled with 60-day AIDA64 Extreme trial subscription and intuitive UEFI BIOS dashboard with integrated MemTest86
DIY FRIENDLY
Q-ANTENNA
With Q-Antenna, attaching a WiFi antenna to your PC is now easy and fast. Instead of slowly rotating two fasteners until they finally lock in, they just snap into place. Less hassle, and more consistent performance.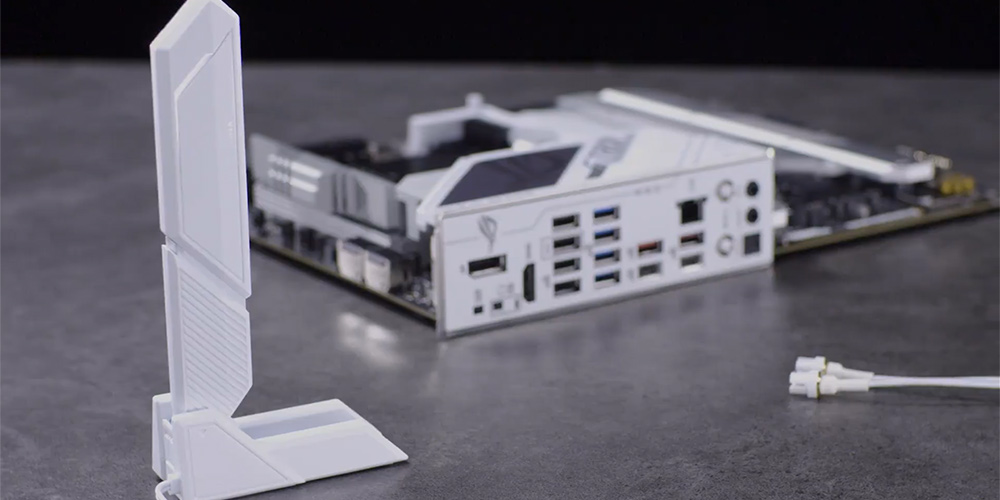 PCIE® SLOT Q-RELEASE

A physical button unlocks the first PCIe slot's security latch with one press, greatly simplifying the process of detaching a PCIe card from the motherboard when it's time to upgrade to a new GPU or other compatible device.

M.2 Q-LATCH

The innovative Q-Latch makes it easy to install or remove an SSD from an M.2 slot. The design employs a simple locking mechanism to secure the drive, eliminating the need for a traditional screw.
CLEAR CMOS & BIOS FLASHBACK™

The Clear CMOS button quickly resets BIOS settings to factory default. It can also be used to reboot the PC if incorrect BIOS settings have been selected.​
BIOS FlashBack™ is a safe and simple way to update BIOS. Just drop the (UEFI) BIOS file onto a FAT32-formatted USB stick, plug it into the USB BIOS FlashBack port, and press the button. Updates can even be performed without having memory or a CPU installed.

Q-LED

The on-board Q-LED troubleshooting lights give PC builders a quick indicator to confirm that key components ― CPU, RAM, graphics card, storage devices ― are functioning normally during startup. Builders can use the Q-LED feature to correct power delivery issues affecting their motherboard, and it can also alert them when memory modules have not been properly installed--even before attempting to boot a newly built PC.
PCIE 5.0
The top PCIe 5.0 x16 SafeSlot is well-equipped for the increased size and bandwidth of next-gen graphics cards. Zippy storage options abound with four PCIe 4.0 M.2 slots, all featuring robust heatsinks to maximize performance.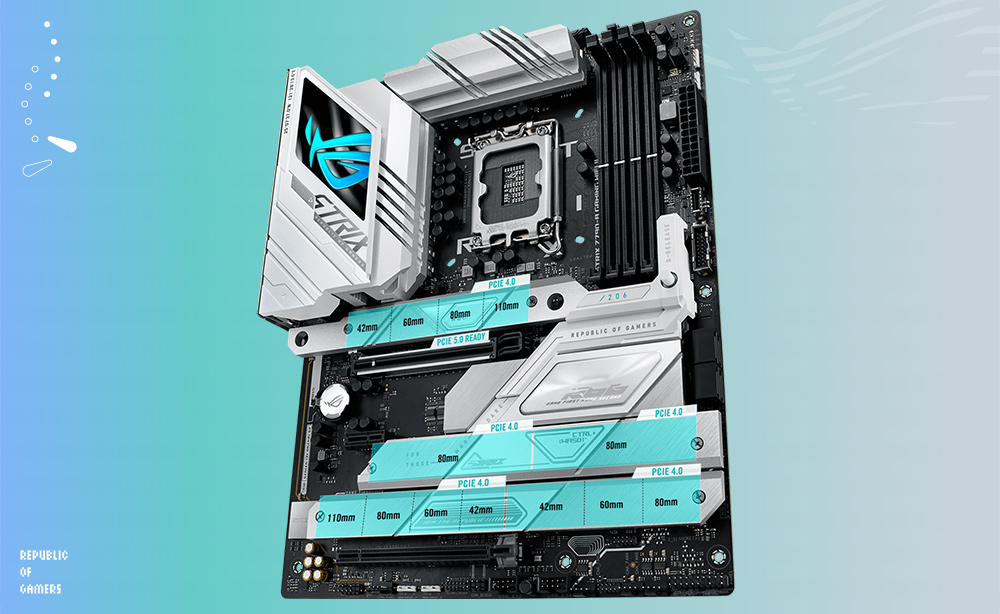 Power Design
16(70A)+1(70A)+2 POWER STAGES

The VRM features 16+ 1+ 2 power stages, each rated to handle up to 70 amps

ALLOY CHOKES AND DURABLE CAPACITORS

Hi-end chokes and durable capacitors are engineered to resist extreme temperatures, enabling performance that exceeds industry standards.

DUAL PROCOOL II POWER CONNECTORS

ProCool II connectors are precision-built to ensure flush contact with PSU power lines. A metal sheath improves heat dissipation and lowers electrical impedance.

SIX-LAYER PCB

A multi-layered printed circuit board design quickly dissipates heat around the voltage regulators to improve overall system stability and provide the CPU with more overclocking headroom.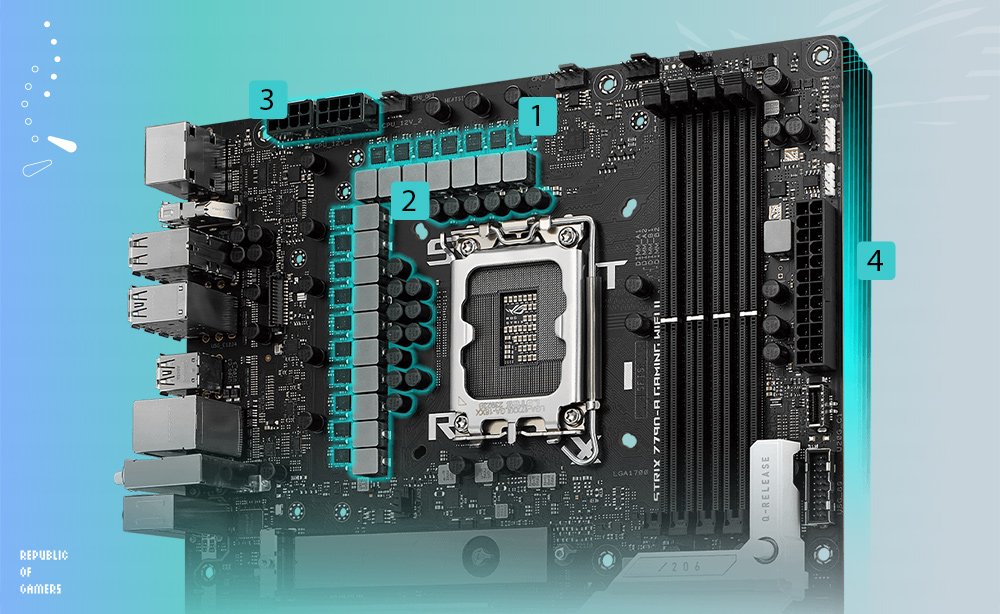 MEMORY
DDR5 DOMINATION

ROG has a long legacy of flexing the fastest memory performance, and DDR5 is no outlier. Thanks to improved signal routing, now enthusiast-grade kits have been driven far beyond the 8 GT/s mark on the Strix Z790-A II, and who knows how far future DIMMs can go? Seasoned veterans can test their mettle by tinkering with the extensive array of tuning options in the UEFI.

AEMP II

ASUS Enhanced Memory Profile II (AEMP II) is an exclusive firmware feature that allows users to achieve supreme memory performance and compatibility with optimized clock speeds, even when they're using PMIC-restricted memory modules that do not provide an XMP or EXPO profile. Developed through a flexible training method, AEMP II simplifies the process of fine-tuning memory settings beyond the baseline configuration, all while ensuring system stability. This applies whether you are maximizing the potential of an entry-level module or preparing a high-speed kit for ultimate performance.
Now, AEMP II offers even more flexibility. With the latest firmware update, AEMP II allows users to optimize the performance of a four-DIMM DDR5 RAM configuration, even with a mixture of different brands and dies. Increasing the memory capacity of your build by adding additional DIMMs has never been easier — with AEMP II, you can get optimized memory performance even when all four memory modules are not an exact match, provided that all four DIMMs have the same capacity.

* Results may vary according to the capabilities of your CPU and memory modules.
** The testing chart is based on a test with an Intel i9-13900K processor and 4x16 GB
SK Hynix DDR5-5600 non-ECC UDIMMs, model HMCG78AGBUA081N
DIMM Flex
DIMM Flex provides enthusiasts with a powerful new way to overclock their DDR5 memory modules. It employs specialized circuitry that can boost performance or address potential stability issues, depending on temperature readings. When temperatures are nominal, it can use the extra headroom to increase speeds and efficiency. And when temperatures increase, it can adjust memory behavior downward to maintain stability.
Learn more
DIMM Flex QVL List
* Results may vary according to the capabilities of your CPU, graphic card, motherboard, and memory modules.
** The comparison chart is based on a test with an Intel Core i9 14900K processor, ROG Strix Z790-E Gaming WiFi II motherboard, ROG Strix GeForce RTX™ 4090 OC Edition 24GB graphics card, and G.SKILL DDR5 memory modules (model F5-7200J3646F24GX2-TZ5RK).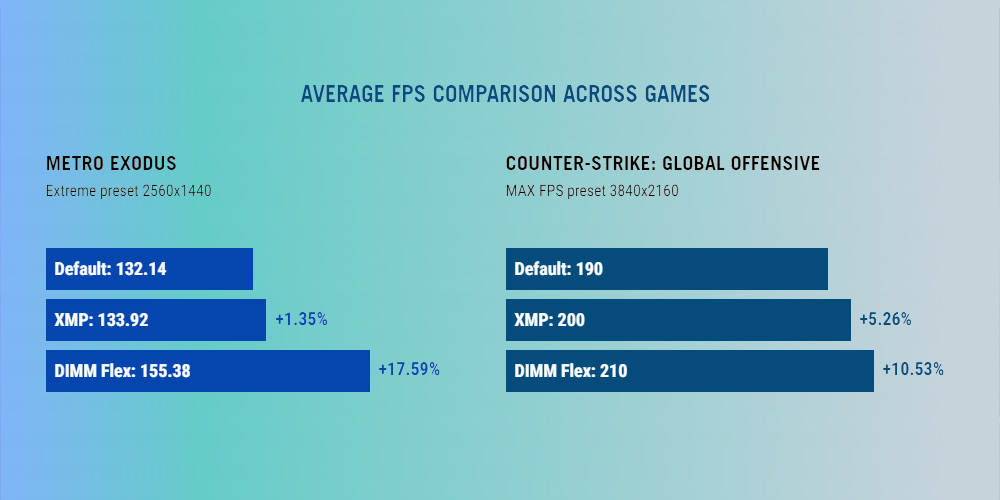 COOLING
VRM HEATSINKS

Covering the power solution are two thick heatsinks with strategic airflow channels for increased heat dissipation while powering high-performance Intel 13th and 14th gen processors.

M.2 BACKPLATE

An integrated backplate helps ensure that high-performance drives can deliver peak performance, even when airflow is restricted.​

M.2 HEATSINKS

Heatsinks cover every slot to help keep onboard NVME SSDs at optimal temperatures for consistent performance and reliability.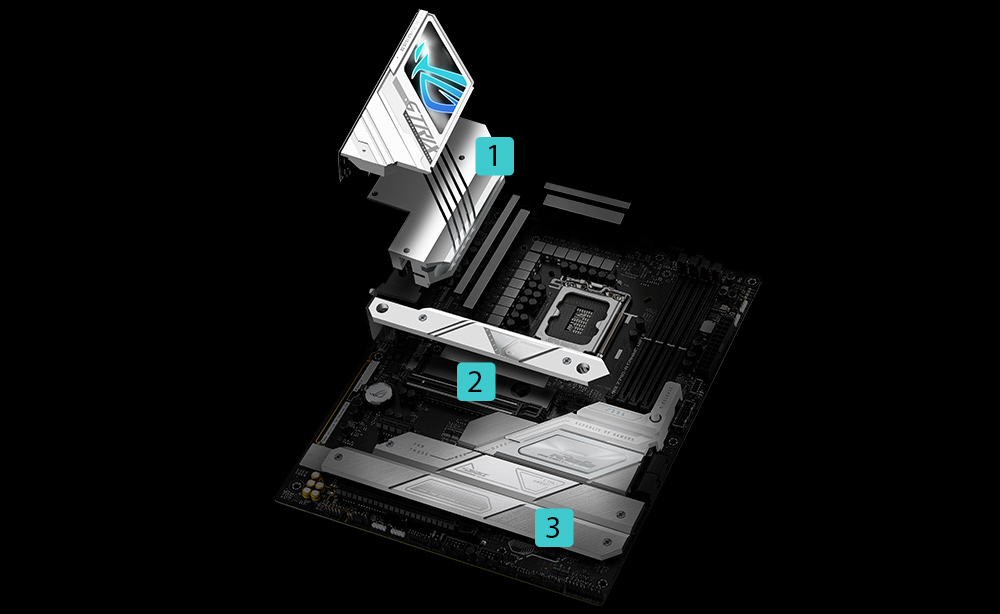 NETWORKING
WIFI 7

With Multi-Link Operation (MLO)*, WiFi 7** can outperform WiFi 6E to deliver faster speeds, higher reliability and increased data transfer efficiency.
Learn more about Multi-Link Operation (MLO) and WiFi 7 technology.
https://www.asus.com/content/wifi7/

* MLO (Multi-link Operation) full functions support will be ready in Windows 11 2024 Platform (Windows 11 24H2) or later.
** WiFi 7 features require onboard WiFi chipset, WiFi AP, and WiFi 7-supported operating systems to support the corresponding features.

Intel 2.5G Ethernet

Low-latency gaming, speedy file transfers, and high-resolution video streaming are among the many perks of onboard Intel® 2.5 Gbps Ethernet.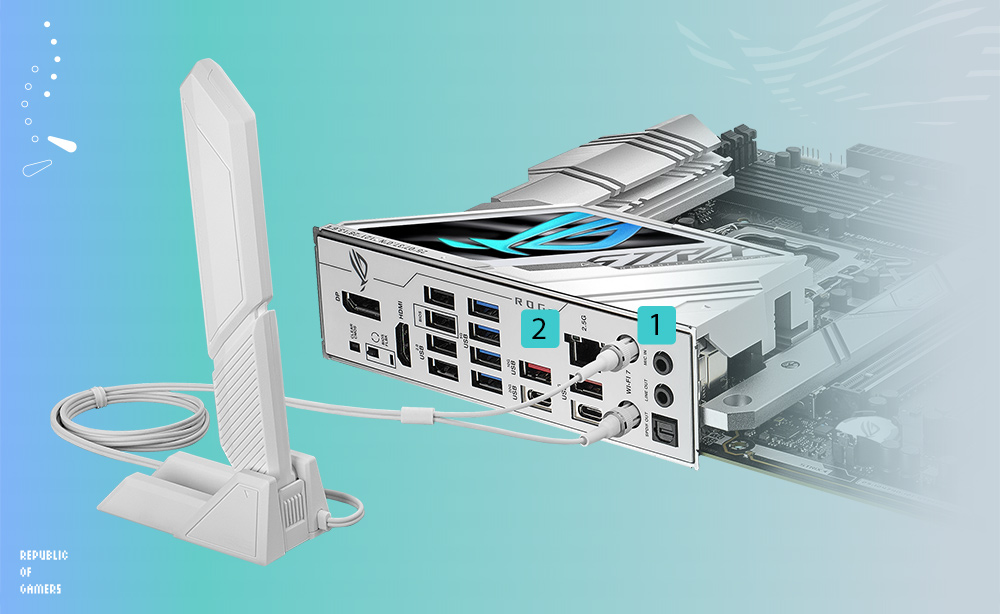 ASUS WIFI Q-ANTENNA
Dual transceivers support the 2.4, 5 and 6 GHz bands to enable faster throughput, with directional sensitivity to improve signal quality and cover greater distances.
Wireless Signal Reception Improvement
Versus previous-generation antenna
Disclaimer: The availability of WiFi 7 160 GHz and 320 GHz varies according to regional regulations.
FAST CHECK
Armoury Crate's Fast Check empowers users to rapidly detect WiFi signal strength.
DIRECTION FINDER
Armoury Crate's Direction Finder* helps users detect the optimal antenna orientation for achieving the best WiFi signal strength.
*The Direction Finder is only compatible with connections in the 5GHz and 6 GHz bands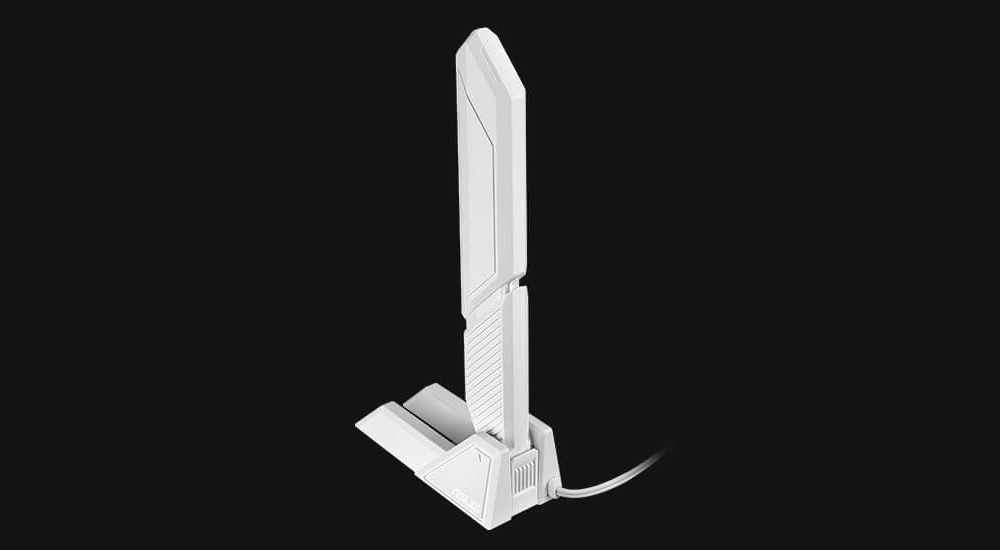 USB 20GBPS
The Strix Z790-A II comes loaded with two USB 20Gbps Type-C® connectors for speedy data transfers up to 20Gbps. One is a port on the rear I/O; the other can be attached to the chassis front panel and it also features Power Delivery (PD) 3.0 technology to quickly charge devices up to 30W.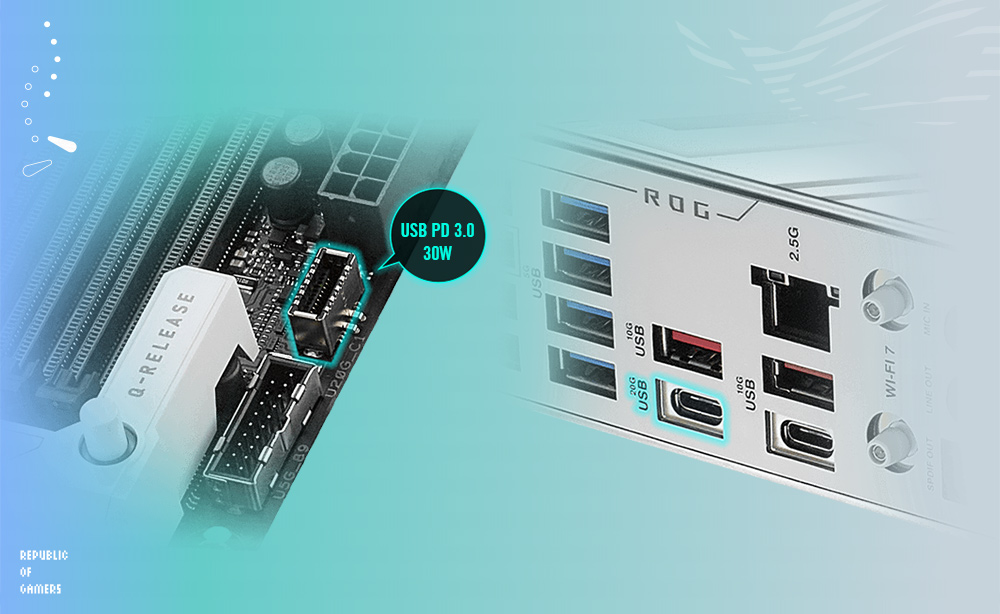 Motherboard
MOB Chipset
Intel Z790