Flare up your game with ROG Strix Flare – a mechanical gaming keyboard that's got everything you want and more. Feel the satisfaction of every keystroke with world-renowned Cherry MX switches. Enjoy instant access to dedicated media keys on the upper left while gaming. And experience an unparalleled level of personalization with a customizable badge illuminated by Aura Sync RGB lighting. Boast your gaming flair as you dominate the battlefield.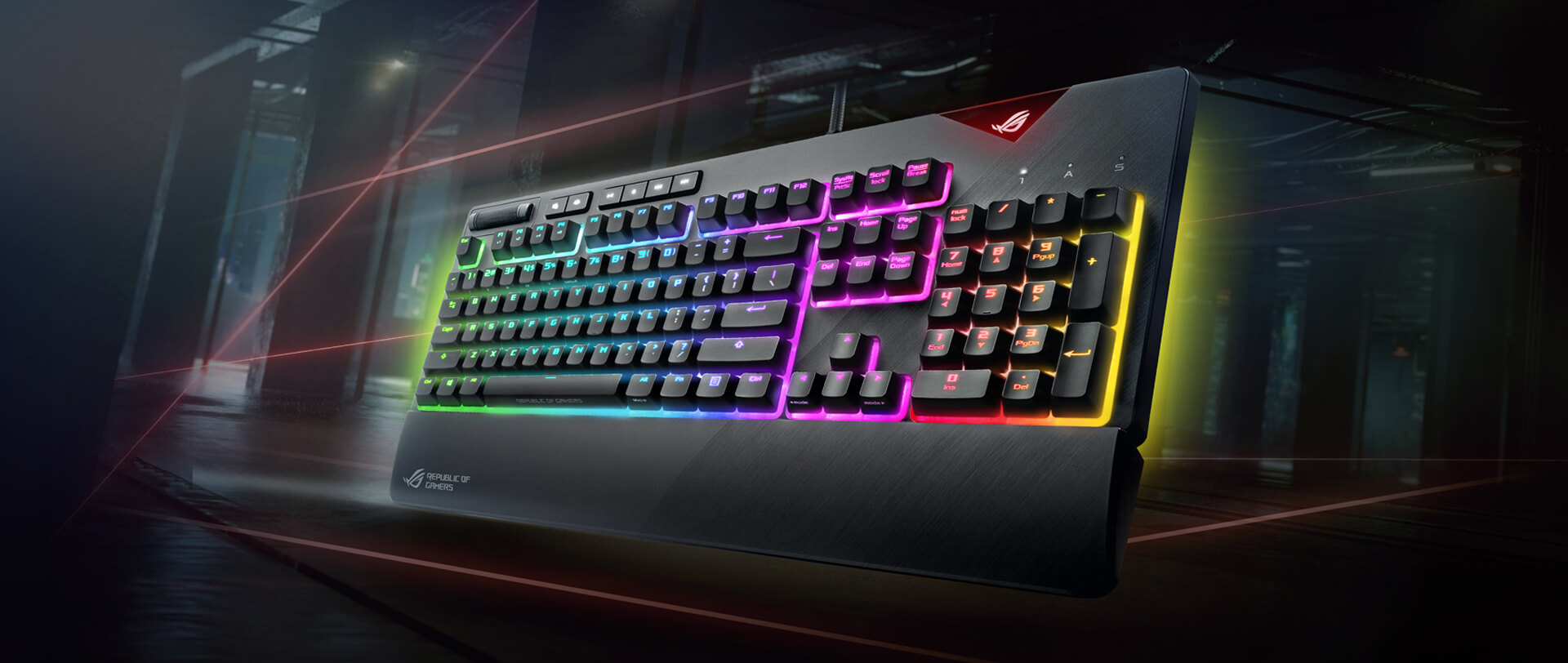 CHERRY MX RGB
MECHANICAL SWITCHES
Constructed with Cherry MX RGB switches, ROG Strix Flare delivers the precise mechanical feel preferred by gamers and enthusiasts alike. The premium-quality switches are manufactured in Germany, and are renowned for offering optimal actuation and responsiveness with every keystroke.
RED
 
Linear response without audible click

Smooth keystrokes with a softer spring for fast and precise actuation

Actuation / tactile force: 45g / NA

Key travel distance: 2mm to actuate, 4mm to bottom
CUSTOMIZABLE ILLUMINATED BADGE
Your keyboard, your insignia. Design and create your personalized badge with the provided blank acrylic badge, and insert it directly into the keyboard to see it flare up with Aura. Or keep the pre-installed ROG badge and boast your ROG pride. It's your keyboard, show your flair!
 
Note: Use white or light-colored paint or stickers for better results. For a premium finish, try professional printing.
 
DEDICATED MEDIA KEYS FOR GAMERS
Easily control your audio without switching out of your game or removing your right hand off the trigger. The dedicated media keys and smooth-scrolling volume wheel are positioned on the upper left of the keyboard, so you get instant access with your left hand.
 
DETACHABLE WRIST REST
Get extra support and comfort with the soft-touch wrist rest, or easily detach it from the keyboard if you don't need it. The wrist rest hooks into subtle grooves at the bottom front of the keyboard, so Strix Flare looks just as good with or without it.
USB PASSTHROUGH
A handy USB passthrough at the back of ROG Strix Flare lets you conveniently connect your gaming mouse, headset or other devices.
AURA SYNC
Flare it up with vibrant per-key backlighting and underglow on both sides to extend the lighting beyond the keyboard. Powered by Aura Sync, the entire color spectrum and a range of dynamic lighting effects are at your command for you to create a keyboard that is uniquely yours. Additionally, Strix Flare's lighting can be synced with the extensive Aura ecosystem to create a gaming environment that really shines.
AURA SDK
ASUS Aura SDK allows developers to take full advantage of the vast ecosystem of Aura Sync-capable PC gear. From in-system illumination to peripherals and beyond, the SDK provides an evolving toolkit of options to enhance games and software with RGB lighting. Game effects, alerts, and audio can all be portrayed via Aura-compatible hardware, creating subtle or dazzling visual cues to augment the action.

Visit the ASUS Aura microsite to learn more about Aura SDK.
ROG ARMOURY II
ROG Armoury II is an enhanced driver-based software that offers more extensive controls while using less system resources. An intuitive UI lets you easily tune ROG Strix Flare to suit your gameplay – create profiles, customize colors and lighting effects, map keys, record macros and more. You can even track hardware stats during gameplay for data analysis.
Onboard memory

Save up to 6 profiles (1 default + 5 customized) and use them anytime, anywhere

100% Anti-Ghosting & N-Key Rollover

Every keystroke is registered accurately without miss no matter how fast you play

On-the-Fly Macro Recordings

Record macros on-the-fly and map it to our fully programmable keys

Windows Lock Key

Disable the Windows key with a single press for undisrupted gaming

Dual-Textured Case

Stylish ROG slash design to give your gaming keyboard a unique look

Cable Routing

Grooves on the underside for tidier cable management
 
General
Manufacturer Warranty
1 Years
Package Content
1 x Flare Keyboard2 x ROG Logo Stickers1 x Blank Customizable Badge1 x Wrist RestQuick Start Guide
Keyboard
Backlighting
RGB
Keyboard Interface
USB 2.0
Design Style
Gaming
Palm Rest
Detachable
Key Type
Mechanical
Key Model
Cherry MX RED
Media Key
Dedicated
volume Control
smooth-scrolling
Interface
USB Pass-through
USB 2.0
Connectivity
Wired
Design
Device Color
Steel Gray
Features
Device Features
100% Anti-Ghosting & N-Key RolloverOn-the-Fly Macro RecordingsWindows Lock KeyDual-Textured CaseCable Routing
On-Board Memory
Save up to 6 profiles
RGB Sync
Aura Sync