PLAY AT THE SPEED OF LIGHT
Take on all comers with ROG Strix Scope RX, the first mechanical RGB gaming keyboard featuring exclusive ROG RX Red Optical Mechanical Switches. These switches provide a 100-million-keystroke lifespan and offer consistent linear keystrokes with immediate response. In addition, each switch has a central RGB LED to give every key all-round lighting. Strix Scope RX also offers IP56 water and dust resistance, an alloy top cover, and USB 2.0 passthrough. Like all Strix Scope series gaming keyboards, it has a wider Ctrl key and a Stealth key for FPS gamers. Go confidently into battle with ROG Strix Scope RX.
ABOUT ROG RX RED SWITCH
Linear and Swift
ROG RX Red Optical Mechanical Switches are the first to be developed by ROG. Extensive research, testing and fine-tuning have resulted in switches with a 1.5 mm actuation point for lightning-fast inputs. An initial force of 40 g prevents accidental keystrokes, and goes all the way up to 55 g for perfect rebound feedback. ROG RX Red switches provide a smooth and linear feel to give you near instantaneous response the moment you strike the key. Learn more
BUILT TO LAST
ROG Strix Scope RX offers industry-leading IP56 dust and water resistance, ensuring it's well-protected from spills and dust. It also has a durable aluminum alloy top plate that provides structural rigidity to give you long-lasting and reliable performance.
Waterproof
IP56 dust
USB 2.0 Passthrough
Convenient USB 2.0 passthrough lets you plug in a mouse or flash drive, or charge mobile devices.
CRAFTED FOR FPS GAMERS
After studying the play style of FPS gamers, the ROG R&D team created Xccurate Design: a Ctrl key that's twice as wide as usual. In the heat of battle, the larger size makes it easy to quickly find and hit.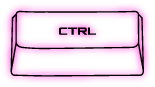 2X Wider
INSTANT PRIVACY
Marked with an iconic cloaked-figure keycap, the Stealth key instantly hides all apps and mutes all audio, assuring instant privacy, whenever you need it. A simple tap engages it, and another tap brings apps and audio back up, as they were.
STEALTH KEY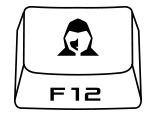 Mutes Audio
Hide all Apps
READY FOR WORK OR PLAY
The Quick-Toggle Switch prepares ROG Strix Scope RX for gaming or the daily grind, toggling the top row between Media or Function (Fn) key input – so it's easy to switch modes for work or play. The keyboard is topped with an aluminum faceplate for everyday resilience, and finished with a striking slash aesthetic for a little touch of style.

QUICK-TOGGLE SWITCH
AURA SYNC
Vibrant per-key backlighting illuminates Strix Scope from top to bottom and edge to edge. Powered by Aura Sync, the entire color spectrum and a range of dynamic lighting effects are at your command for you to create a keyboard that's uniquely yours. The lighting is easily synced with the extensive Aura ecosystem to create a gaming environment that really shines.
Note: Lighting synchronization between ROG mice and keyboards is enabled and controlled via Armoury Crate software, while synchronization with other components is enabled and controlled via ASUS Aura Sync software.
Static

Breathing

Color Cycle

Rainbow

Starry Night

Strobing

Music

Adaptive

Dark

Smart
ARMOURY CRATE
Armoury Crate unifies system and lighting controls. Easily create and define and customize scenario profiles, map keys, record macro at your fingertips.
Onboard memory

Save up to six profiles, including up to five custom schemes, and use them anytime, anywhere.

100% Anti-Ghosting & N-Key Rollover

Every keystroke is registered accurately without miss no matter how fast you play.

On-the-Fly Macro Recordings

Record macros on the fly and map them to Strix Scope's fully programmable keys.

Windows Lock Key

Disable the Windows key with a single press for undisturbed gaming.

Function lock key

Toggle between Media or Function (Fn) key input to easily switch modes for work or play.
Features
Product Segment
ROG Strix Scope RX