FLOW TO VICTORY
The ROG Strix GeForce RTXâ"¢ 4080 brings a whole new meaning to going with the flow. Inside and out, every element of the card gives the monstrous GPU headroom to breathe freely and achieve ultimate performance. The unleashed reign of the Nvidia Ada Lovelace architecture is here.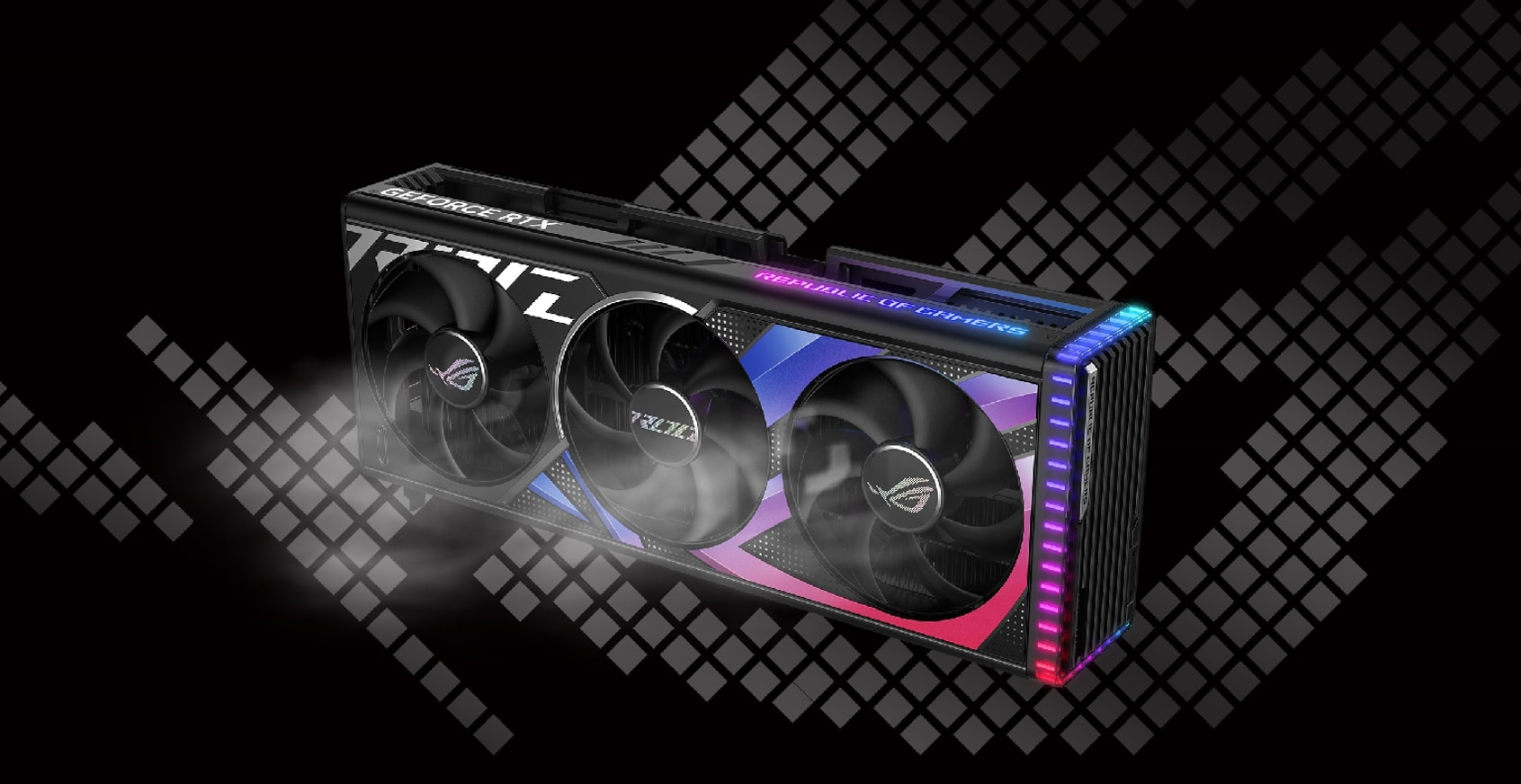 NVIDIA Ada Lovelace Streaming Multiprocessors: Up to 2x performance and power efficiency.
4th Generation Tensor Cores: Up to 2X AI performance.
3rd Generation RT Cores: Up to 2X ray tracing performance.
Axial-tech fans scaled up for 23% more airflow.
New patented vapor chamber with milled heatspreader for lower GPU temps.
3.5-slot design: massive fin arrary optimized for airflow from the three Axial-tech fans.
Diecast shroud, frame, and backplate add rigidity and are vented to further maximize airflow and heat dissipation.
Digital power control with high-current power stages and 15k capacitors to fuel maximum performance.
Auto-Extreme precision automated manufacturing for higher reliability.
GPU Tweak III software provides intuitive performance tweaking, thermal controls, and system monitoring.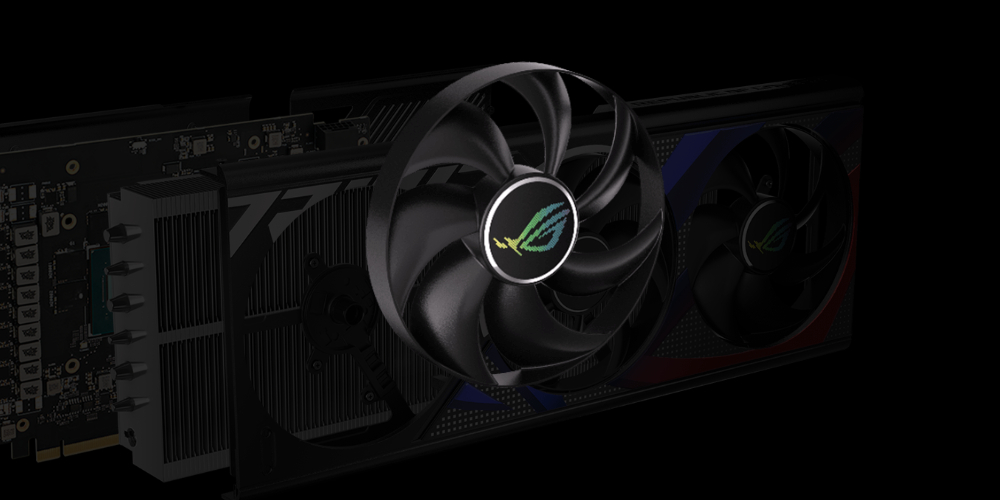 Axial-tech Upgrades
Bigger and better. Axial-tech fans spin on dual-ball bearings and have been scaled up to propel 23% more air through the card, setting the stage for lower temperatures, less noise, and higher performance.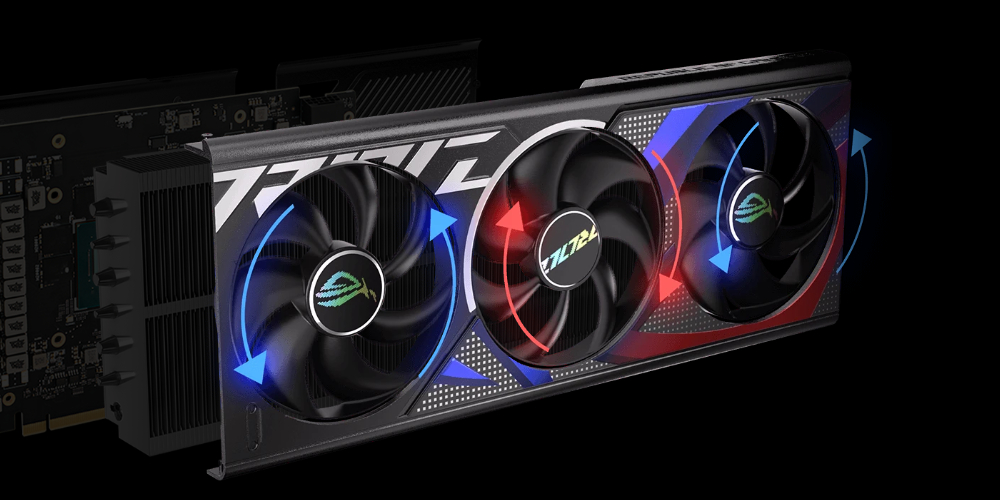 Reverse Rotation and 0dB Technology
The two side fans spin counterclockwise to minimize turbulence and maximize air dispersion through the heatsink. All three fans come to a standstill when GPU temps are below 50 Celsius, letting you play less-demanding games or perform light tasks in relative silence. Fans start up again when temps are over 55 Celsius, referencing a speed curve that balances performance and acoustics for work or play.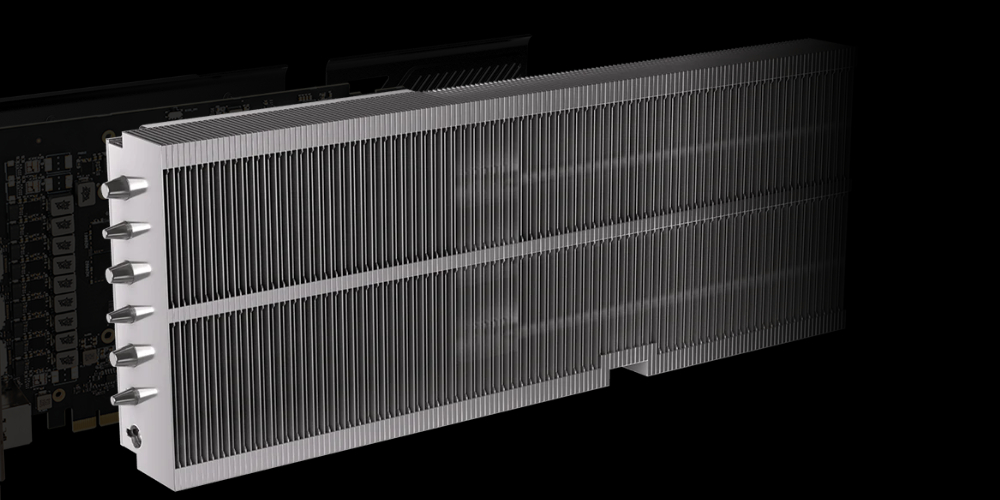 3.5-slot Design
The custom sink is generously sized and structured to soak up heat from the GeForce RTX 4080 GPU so that it can be efficiently whisked away by the three Axial-tech fans.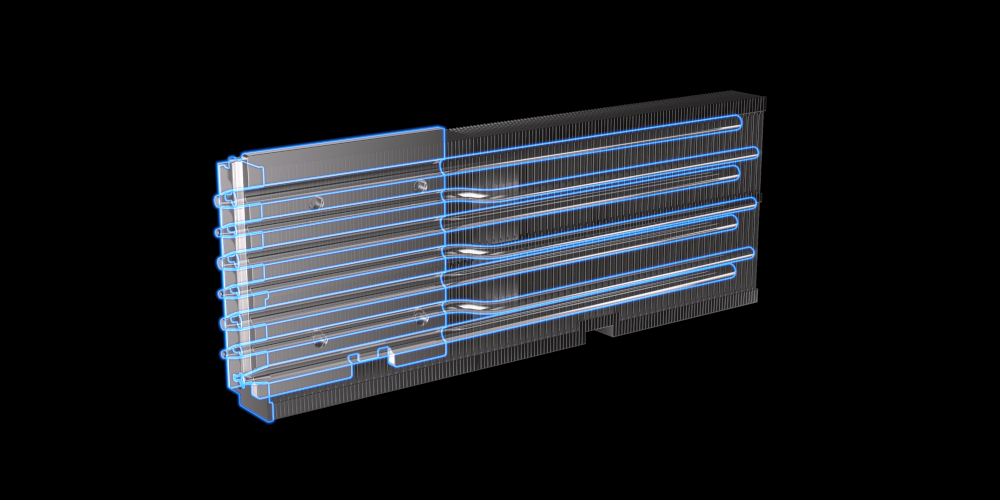 Patented Vapor Chamber
A vapor chamber featuring milled pathways lets the heatpipes sink in without being pressed flat, allowing heat to be carried more efficiently to the fin stack. In comparison to conventional vapor chamber and heatpipe combos, this potent pairing reduces GPU temperature by up to 5 Celsius when subjected to a 500W thermal load.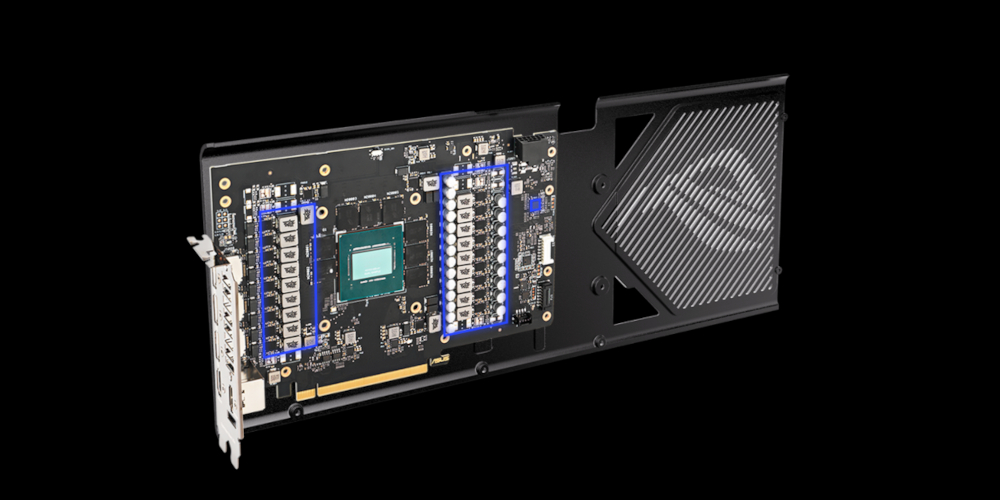 Premium Power Delivery
Digital power control, an array of high-current power stages, and a lineup of 15K caps ensure massive reserves to reliably push performance boundaries.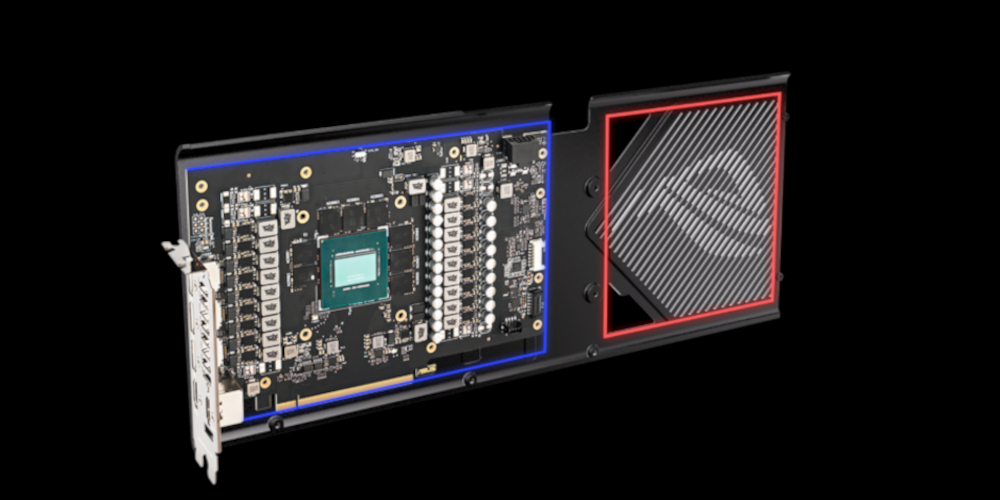 Compact PCB
Component and trace layouts have been optimized onto a short PCB to reduce power losses and let heat escape through a massive backplate vent.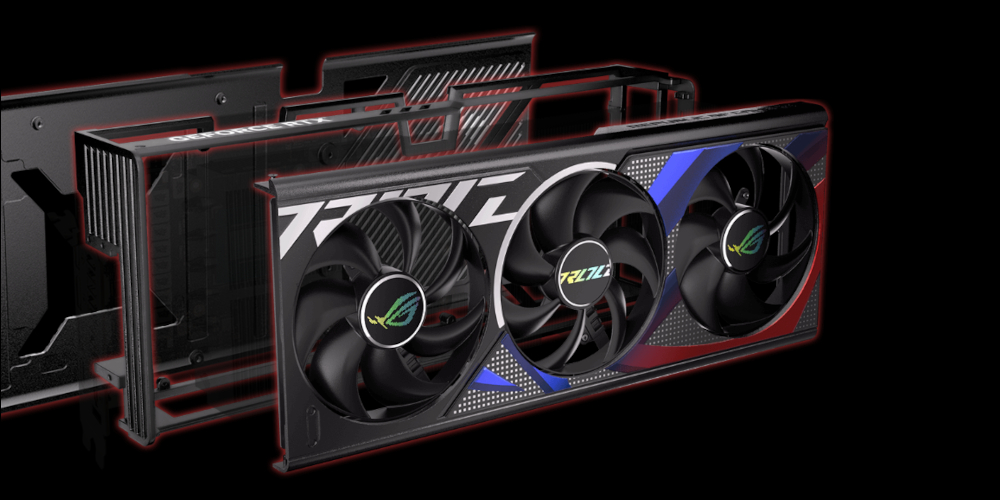 Metal Exoskeleton
A high-quality diecast frame, shroud, and backplate tightly brace the PCB and strategically steer airflow.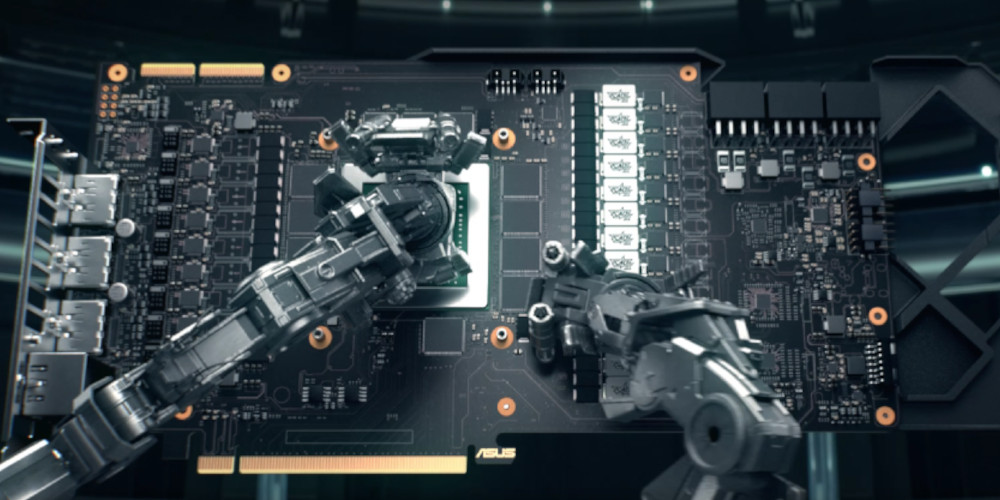 Auto-Extreme Technology
Auto-Extreme Technology is an automated manufacturing process that sets new standards in the industry by allowing all soldering to be completed in a single pass. This reduces thermal strain on components and avoids the use of harsh cleaning chemicals, resulting in less environmental impact, lower manufacturing power consumption, and a more reliable product overall.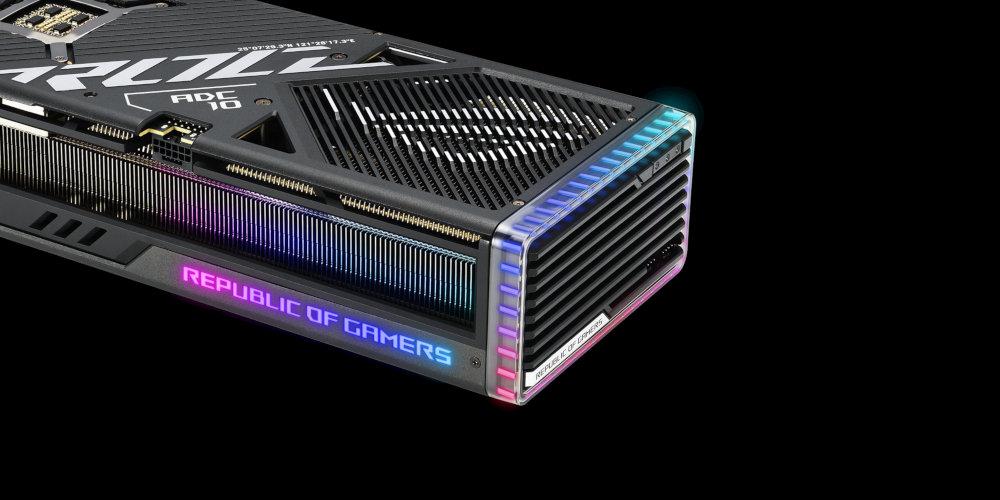 Aura Sync
Aura-compatible ARGB lighting on the shroud adds a dash of customizable color or functional effects to your build. Pair up with a vast range of compatible system components and coordinate the glow to create a theme that's uniquely you.
Static
Always on
Breathing
Fades in & out
Strobing
Flashes on & off

Color Cycle
Fades between the colors of rainbow
Rainbow
Various color
Starry Night
A display that mimic the nighttime sky
Smart
Changes color with CPU/ GPU load or temperature
Music
Pulses to the beat of your music
Adaptive Color
Matches color to a selected region on your screen
Dark
Lighting is turned off
Software Suite
Harness the hardware
Hardware and software come together to let you fully customize your experience and get the most out of your graphics card. GPU Tweak II allows for hardware tweaking and monitoring, and QuantumCloud utilizes your spare GPU computing power to generate passive income.
Free 1 Month of Adobe Creative Cloud
Get complimentary membership with the purchase of selected ASUS products.*
*Terms and conditions apply. For more details, please read the full terms and published on the event page.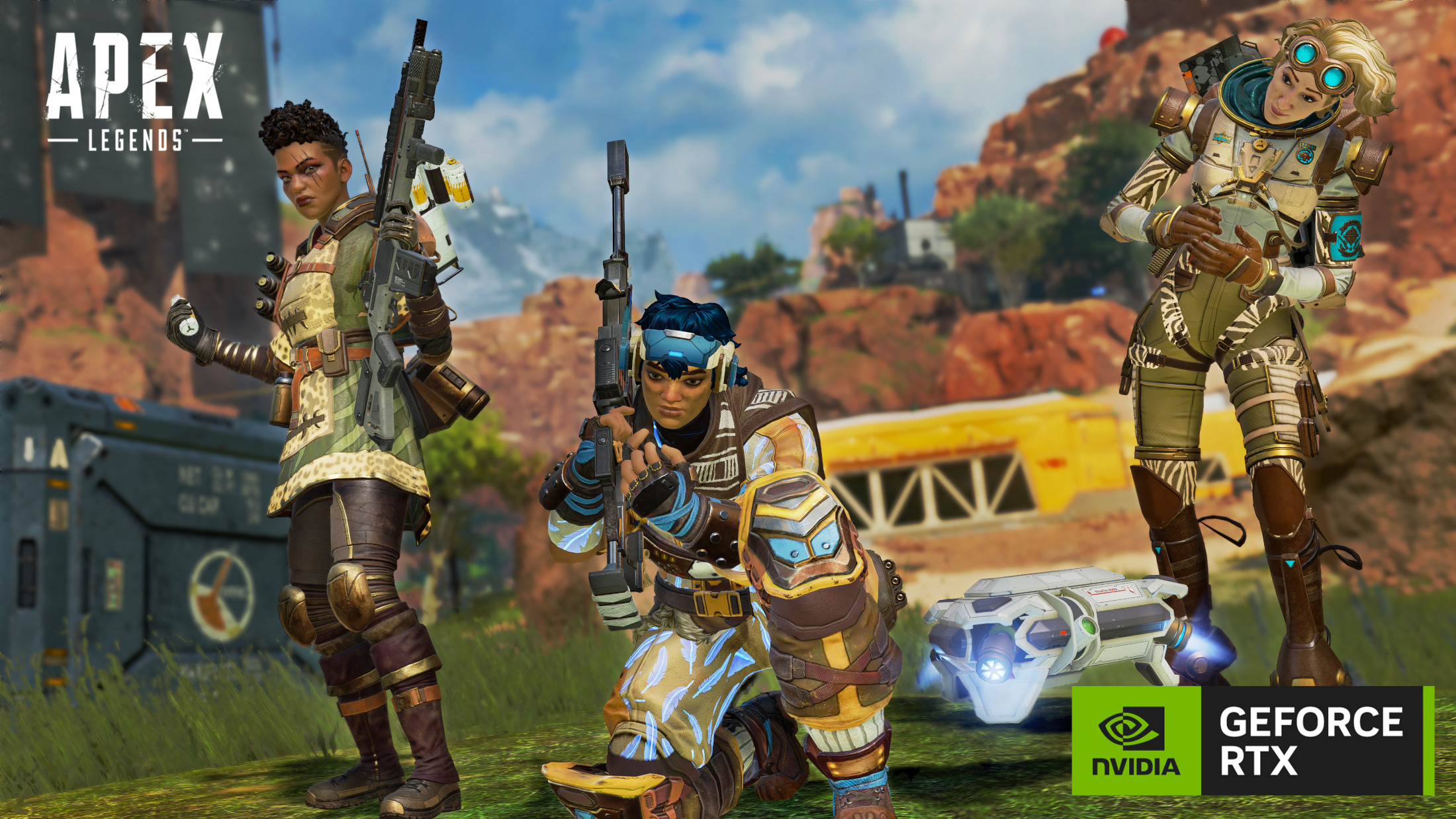 General
Manufacturer Warranty
3 Years
DirectX
DirectX 12 Ultimate
Slot Width
Tripple Slot
Power Connectors
3x PCIe 8-pin
Motherboard
Chipset Manufacturer
Nvidia
GPU
CUDA Cores
9728
Bus Standard
PCI Express 4.0
Graphics Engine
GeForce RTX 4080
Video Memory
16GB GDDR6X
Memory Interface
256-bit
GPU Architecture
NVIDIA Ada Lovelace
Interface
DisplayPort
3 x DisplayPort 1.4a
Power
TDP
320 Watts